Making a special meal for your mum on Mother's Day is a tradition and we have five delicious gourmet meals that are easy to prepare and are sure to impress and delight her. And if you are helping your children to prepare a dinner for their mum, these recipes are easy and bursting with flavours.
Make it special by setting the table with a place of honour for mum. Use the fancy linen napkins and the good plates, cutlery, and glasses. Place a vase of flowers in centre of the table, or a single stem on her plate. Make the meal itself (and the clean up afterwards!) part of your Mother's Day present to make her feel special and appreciated.
Choose from one of the delicious meals below and make your mums day.
2. Gordon Rhodes No Hurry Chicken Curry
Gordon Rhodes' No Hurry Chicken Curry Sauce Mix is packed full of aromatic herbs and authentic spices and will take your mum on a curry adventure!
Incredibly simple to use, all you have to do is add your meat, vegetables and water and let the slow cooker do the rest. This delicious mix is also free from artificial colours, flavourings or preservatives and is also gluten free too. There's also a slow cooker recipe option on the packet.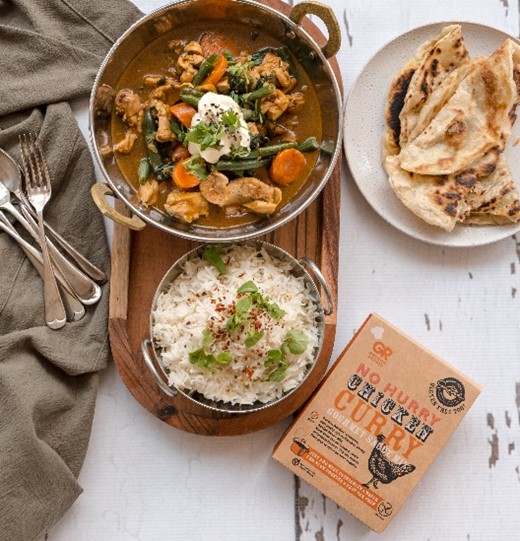 Serves 4
Shopping List
1 packet of GR Gourmet No Hurry Chicken Curry Sauce Mix
450g Chicken Breast or Thighs, diced.
450g Sweet Potatoes, peeled and chopped.
2 Red Capsicum chopped or use carrots or beans.
1 Onion, chopped.
400g Tin Diced Tomatoes
200ml Water
175g Fresh Spinach, chopped
Method
Heat a teaspoon of cooking oil in a pan, add the onions and diced chicken and fry for 5 mins until browned.
Add capsicum, sweet potato and tomatoes and cook for 5 mins.
Mix the Curry Sauce sachet with 400ml of water, add to the pan and bring to the boil.
Reduce heat and simmer for 20 minutes stirring occasionally.
Add spinach, stir through, and stand for 5 minutes before serving.