Our range of luxury gourmet gift hampers feature some of Australia's and New Zealand's best white wines.
We have curated a superb range of white wine hampers that include the iconic St Hugo and their famed Eden Valley Riesling along with the delicious Stoneleigh Latitude Sauvignon Blanc and the elegant Australian Lloyd's Block Chardonnay Semillon displaying lifted aromas of apple blossom, musk, and nectarine
Our Tastes of Country Hamper - Premium Treats with White Wine includes Mt Yengo Riverina Pinot Grigio. Enjoy this Pinot Grigio from Australia's first indigenous wine company along with Australian native foods and botanical flavours from other First Nations producers.
The St Hugo Eden Valley Riesling found in our Foodies Gourmet Hamper is a modern Australian Riesling that reflects the quality of carefully selected Eden Valley fruit. Although drinking beautifully now, with great acidity and minerality, this wine will also reward cellaring. Enjoy with the freshest seafood, such as scallops, ceviche, King George whiting or natural oysters. A low yielding vintage, thanks to lower than-average rainfall across Winter and Spring as well as a cool September and some hail damage in November. Lower yields across Eden Valley led to increased flavour development and structure in the grapes that remained. Cool night-time temperatures in February meant that acid retention during ripening was excellent, producing concentrated wines with good acid balance.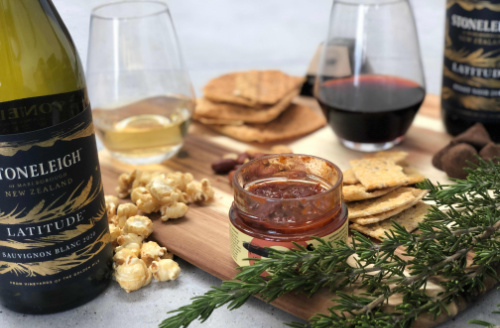 A great example of textural and weighty Sauvignon Blanc wine, the Stoneleigh Latitude Sauvignon Blanc displays ripe tropical fruit aromas of passionfruit, grapefruit and guava. This leads onto a weighty, textural palate joined by fresh citrus and hints of grapefruit pith. The ripe fruit and concentrated flavours of this wine make it a winner with fresh, punchy dishes such as pulled pork tacos served with fresh lime and coriander accompanied with a pineapple and mango salsa. You'll find the Stoneleigh Latitude Sauvignon Blanc in the Finest Gourmet with White Wine Hamper, White Wine & Premium Gourmet Selection Hamper and the Red & White Gourmet Favourites Hamper.

Lloyds Block wines are made from a blend of grape varietals which enables their winemakers to produce more complex and well-rounded wines with enhanced aromas, flavours, colour and texture. The Chardonnay Semillon palate shows a mix of stone fruits, citrus and tropical fruits supported by light oak integration giving a fresh and long-lasting finish. Pairing perfectly with sashimi and seafood platters, lobster mornay, chicken and pork dishes with Asian accent, spaghetti with prawns or a garden salad with blue cheese dressing. Find it in our Gourmet Treats with White Wine Hamper.
Our white wine hampers make the best gift for that special occasion and are a wonderful way to say thank you or even happy birthday. All our gourmet food and white wine hampers are packed in a quality hamper gift box. Impress that wine lover even more with a one-of-a-kind card by adding your own personalised video to one of our free gift cards adding that personalised touch.