Need a thoughtful gift for your loved ones that will surprise and delight on their birthday. Choose one of our premium gourmet hampers. They are full of the good stuff and make the best birthday presents!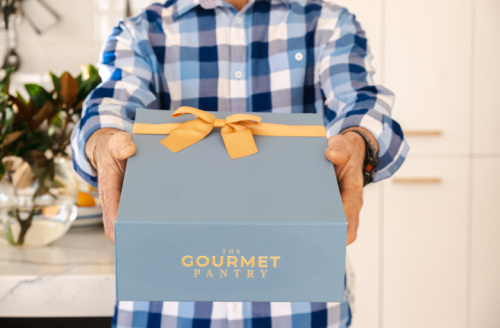 Our range of premium gourmet gift hampers are just the thing to let them know you are thinking of them on their birthday. Featuring the finest selection of Champagne, beer, wines and spirits paired with the most delectable gourmet treats.
Every premium gift hamper from The Gourmet Pantry brings with it an incredible opening experience. Each hamper is packed lovingly into our French Blue Hamper Box and topped off with a quality gold ribbon. Our hampers are carefully curated so they are full of product not filling, so they will open the hamper box to see it full to the brim with quality gourmet goodies.
You can also include a personalised message on our free birthday greeting card with the option to take your greeting message to the next level with a personalised video message. Create a one-of-a-kind card by adding your personalised video to one of our free gift cards adding that personalised touch. All your recipient needs to do is scan the QR code we will print on your free birthday greeting card to view a recorded greeting from you straight to their phone! A great way to make your birthday message more memorable.
Enjoy free delivery Australia-wide on all birthday hampers over $80 or take advantage of our Express Post delivery option. So, if you are not able to see that someone on their birthday, you are still able to send them your best wishes and love from wherever you are in Australia. And if you are living or travelling overseas, you can order a hamper to be delivered to them anywhere in Australia.
If you are not sure of what hamper they would like best, let them choose from our wide selection of gourmet gift hampers and premium gourmet treats with a voucher. All you need to do is choose the amount you would like to spend, and we will send the gift voucher straight to their inbox on their birthday with a personalised message from you. You can even choose the time you would like the voucher sent!
No matter who you are birthday shopping for weather they are turning 18 or 99 our hampers will have them feeling treated to the best gourmet food and alcohol products from Australia and the world.