Our craft beer hampers are just the thing for the beer lover. Our premium gift hampers are filled with the most delicious selection of gourmet products paired with the finest craft beer featuring a great craft beer line up from Bells Beach Brewing found on Victoria's Surf Coast to Sobah hailing from Kombumerri country.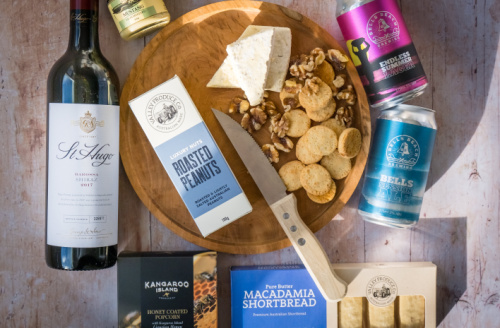 Bells Beach Brewing is built on belief and capability. Founders Jono and Adam were inspired by the landscape of Bells Beach and the Surfcoast but uninspired by the beer they found in the location back in the day.  In their day jobs, the boys engineered some of the world's finest cars, in locations such as the UK, US and Bavaria that had also supplied a wealth of beer drinking experience. Bells Beach Brewing was founded on the belief that they could combine the engineering approach from billion-dollar car development programs with their well-honed taste buds to produce quality beer that could rival any in the world.

After 3 years of up-skilling and experimentation they brought their first beer to the market, Southside Saison, to market in 2015 which later won a Silver at the craft beer award – not a bad first effort.  Buoyed by great feedback and growing sales Jono and Adam continued to grow the core range, gypsy brewing around the Geelong and Surfcoast, until in 2017 they decided it was time to put down roots of their own in the home of surfing.  After approaching renowned sports photographer Jeff to buy some surfing photos, they ended up gaining the third member of the Bells Beach crew who joined them on the journey of finding a location to build a brewery and tap room in Torquay. Our Bells Beach craft beer hamper range includes: Hells Bells Brewery Craft Beer hamper and Bells Beach Craft Beer & Ultimate Selection hamper.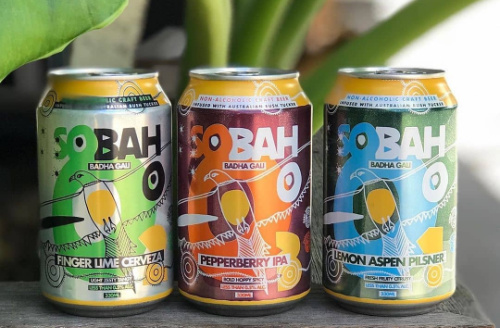 The Gourmet Pantry is proud to present our new Tastes of Country – Indigenous Hamper Range which includes the Premium Treats with Sobah Craft Beer hamper. This unique hamper includes Sobah non-alcohol craft beer. Proudly Aboriginal owned and led, Sobah is Australia's first non-alcoholic craft beer company run by husband-wife team Clinton and Lozen Schultz. Based on beautiful Kombumerri country, a part of the Yugambeh language regions, known as the Gold Coast, Queensland. Sobah is a place with sun and surf where a fresh, crisp drink can be enjoyed without the headache.
Sobah's non-alcoholic craft beer range is crafted with the highest quality ingredients the same way as many craft beers, only with a difference - no booze! Being chemical-free, preservative-free and without additional processes to remove alcohol, Sobah retains a light, fresh and crisp taste.
Paired with great craft beers we have added to our hampers the best gourmet food products from Australia and the world and have packed them lovingly into our stunning hamper boxes. Each hamper is carefully constructed to make sure all products complement each other, and the range offered is sure to provide the perfect gift and add a little luxury to every occasion. All you need to do is choose which of our gorgeous craft beer hampers you would like to gift, and we'll take care of the rest – delivering to their door Australia-wide with a personalised message.