Looking for a delicious, easy dinner idea? Look no further that the incredible range of Indian Simmer Sauces from Maya Kaimal available from The Gourmet Pantry. Maya's incredible mild Tikka Masala sauce is the perfect base for this delicious version of this legendary dish!
The story of Maya Kaimal Indian Simmer Sauces begins with one person - Maya Kaimal herself. She loved the taste of her family's food and wanted to share it with others.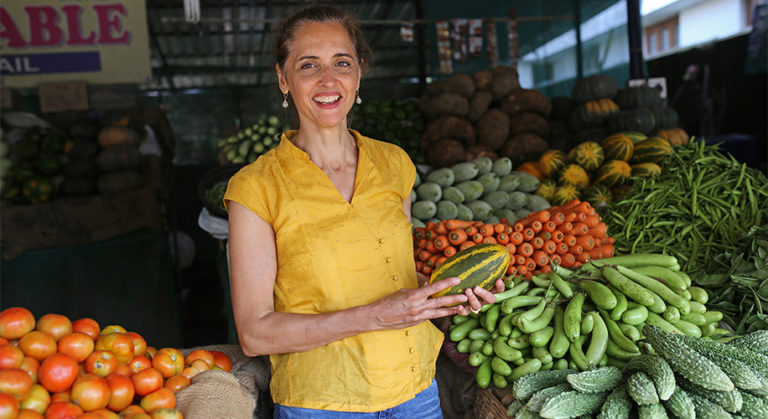 As a kid, Maya learned to love food from her dad, Chandran, and Aunt Kamala. She enjoyed her dad's fish curries and lentil stews. These dishes, full of coconut milk and tamarind, were common in her father's home in Kerala, South India. By visiting often, she learned how to mix spices and cook the dishes she loved.
Later, while working in New York, Maya noticed that people had a very different idea of Indian food. It wasn't like the food she had grown up with. So, she decided to teach people about real Indian food by making it herself.
In 2003, Maya and her husband, Guy Lawson, started her own food brand. She used family recipes to make food that was easy to cook and tasted like home. Starting with sauces, she later added other foods like dals, chanas, and rice to her line. People liked her food, and it got good reviews.
Now, Maya lives in Upstate New York with her husband and twin daughters. She still gets her food ideas from India and the tastes she remembers from Kerala. Every product she makes shows the traditional food and history of this special place.
Maya's food is made with high-quality ingredients. She uses organic and non-GMO products whenever she can. She takes her time to cook, just like people have done in India for a very long time. She says, "We roll up our sleeves so you don't even have to put on an apron."
Take Maya's Chicken Tikka Masala recipe below, for example. This popular dish was created by an Indian restaurant owner in London. With Maya's Tikka Masala simmer sauce, anyone can make this dish at home. It's made with good ingredients and tastes just as good, if not better, than restaurant versions.
In short, the Maya Kaimal brand is all about sharing the taste of real Indian food with family & friends. Maya's third cookbook, "Indian Flavor Every Day," was released in 2023, and she's still coming up with new food ideas. Maya Kaimal is all about keeping the flavors of Indian cuisine alive and well.
The Gourmet Pantry is proud to stock this incredible range of Indian Simmer Sauces in our huge range of the finest gourmet food products from Australia and the world! Discover the range and wow your family & friends with these easy to make, delicious simmer sauces.
To discover more about Maya Kaimal herself click here.
Chicken Tikka Masala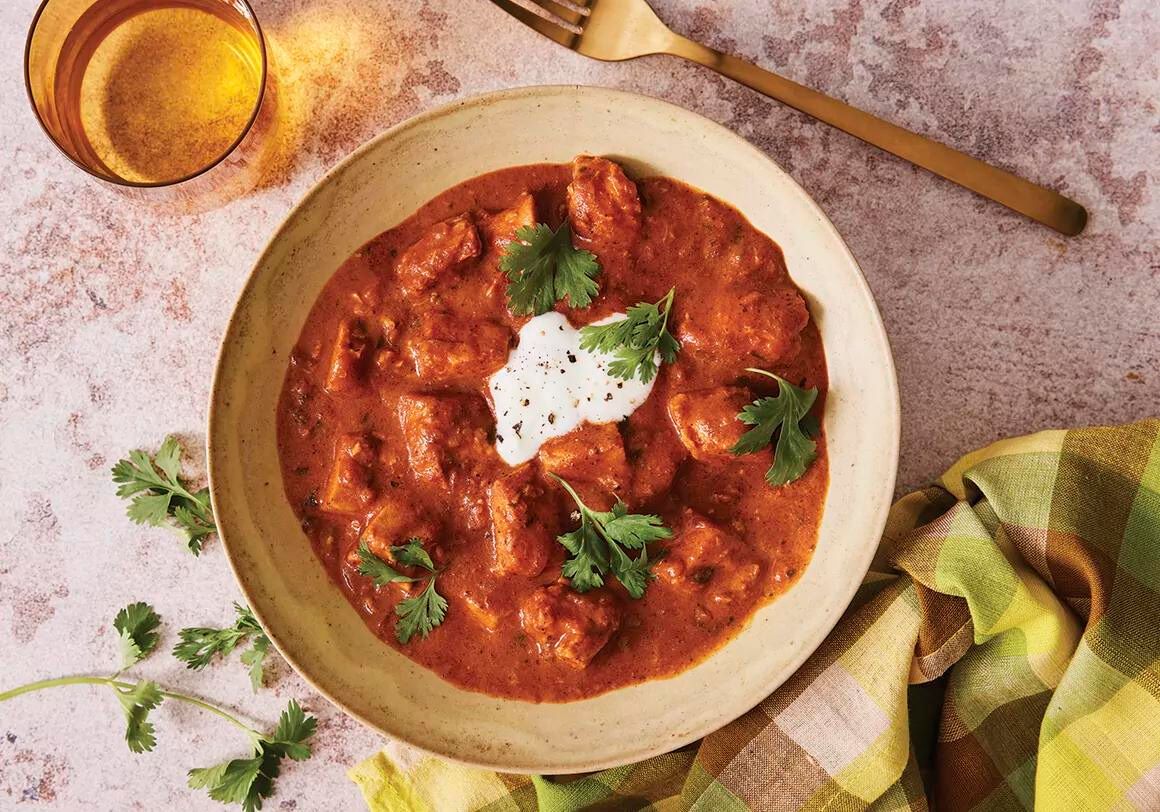 Chicken Tikka Masala is a staple on every Indian restaurant menu, and has even been declared the national dish of Britain. The dish was likely first created by an innovative Indian restaurant owner in London who used leftover boneless chicken pieces, known as "tikkas", in a rich, creamy tomato sauce. With the Maya Kaimal Tikka Masala sauce, you can easily recreate this famous dish at home. Since Maya Kaimal only use wholesome, clean ingredients, you can trust that your homemade version will be every bit as good—if not better—than what you'd get in a restaurant!
This recipe serves 4 people.
Ingredients:
30 ml of vegetable oil

Approximately 680 grams of boneless, skinless chicken, cut into 2.5-cm cubes (a mix of light and dark meat is recommended)

1 jar of Maya Kaimal Tikka Masala sauce

A handful of fresh coriander leaves, roughly chopped (approximately 15 grams)
Preparation:
Step 1: In a medium-sized frying pan or casserole dish with a lid, heat the vegetable oil over medium heat. Add the cubed chicken and cook until it's lightly browned on all sides.
Step 2: Pour in the Tikka Masala sauce. Put the lid on and let it simmer over low heat for about 15 minutes or until the chicken is fully cooked. If the sauce becomes too thin, take off the lid and continue simmering.
Step 3: Once the chicken is cooked, take off the heat and sprinkle the fresh coriander over the top. Serve your Chicken Tikka Masala with basmati rice, Indian naan, or another type of flatbread. Enjoy your homemade Indian cuisine!
Click here to order Maya Kaimal Tikka Masala Simmer Sauce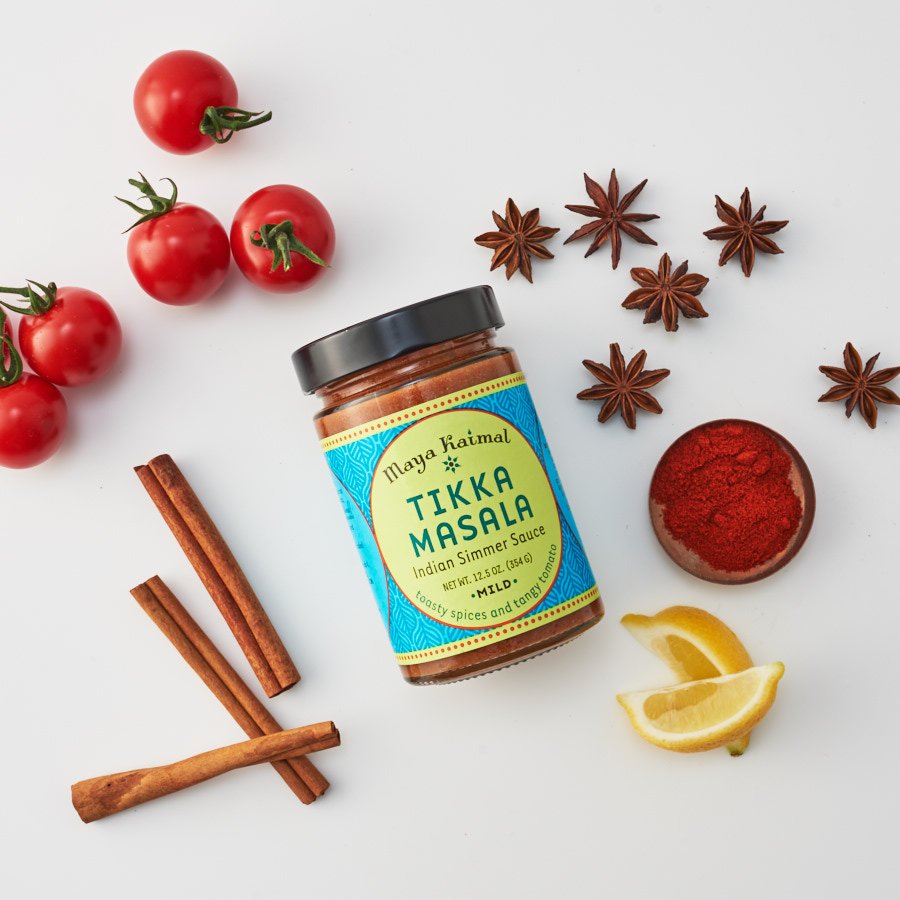 Original recipe provided by Maya Kaimal via www.mayakaimal.com