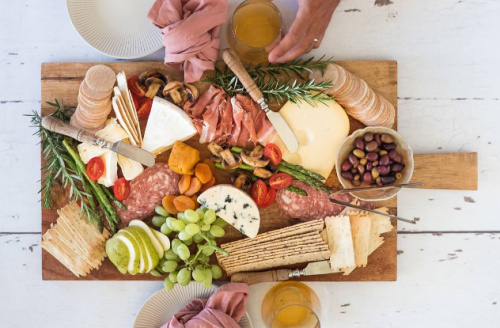 Want to impress your friends and family with a delicious Cheese Board?
Here at The Gourmet Pantry, we love making Cheese Boards and sharing them with our friends and family for relaxed catchups or special occasions.
Following this step-by-step guide – using the finest crackers, olives and condiments from The Gourmet Pantry of course – makes assembling a beautiful looking Cheese Board foolproof. Cheese Boards make for an easy yet stylish way to entertain, we hope you have a great time assembling and enjoying yours!

Start with the cheeses and place evenly over your cheese board.
Get a mix of cheese textures. Make sure there is a soft cheese like a Brie, a crumbly cheese like a blue cheese, and a hard cheese such as a cheddar or parmesan. Ensure you get a mixture of flavours with a couple of milder versions. Use a mix of shapes and colours – a pale round brie, a sharp wedge of parmesan, a square of cheddar – it all adds to the visual appeal.
Then, add in the following order a selection of meats, fruits, vegetables, condiments, and crackers.
Meats like salami, kabana, pancetta or prosciutto bring delicious salty flavours. Roll or place the meats around the board.
Add nuts and seeds as well as olives, sundried tomatoes, artichokes, or marinated mushrooms.
Pile them around the board or use small bowls if needed. Then add fruit to brings a sweet element using grapes, figs, cherries, dried apricots, and muscatel grapes. Next up add vegetables such as cherry tomatoes, capsicum slices, snow peas and asparagus for vibrant colour.
Crackers then bring the crunch. From the simple water cracker to artisan flavours, crackers are an integral part of any cheese board. Use different shapes, sizes and textures and pile them high for big impact.
Condiments are important. Add fruit pastes, dips, spreads, pesto, tapenades, mustards, chutneys, and relishes – decant directly onto the board or into small bowls or use the jar they came in straight onto the board.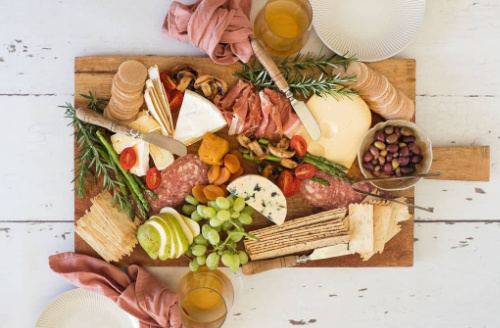 Keep adding to the board, filling spaces for a rustic, generous look.
Don't forget the garnishes – try rosemary, parsley, or edible flowers.
Finish with your finest cheese knives and then get ready to wow your guests.
We've used Valley Produce Company's Crackerthins Original, Artisan Flatbread Crackers, La Panzanella Mini Croccintini, Apricot & Pistachio Fruit Pyramid and Kangaroo Island Mediterranean Olives. You can get all these delicious gourmet products and more from our range.
Shopping List
Cheese
Soft Cheese - Brie or Camambert

Blue Cheese

Hard Cheese – Cheddar or Parmesan
Deli
Salami

Kabana

Pancetta

Prosciutto

Sun Dried Tomatoes

Marinated Mushrooms

Marinated Artichokes
Olives & Nuts
Fruit & Vegetables
Cherry Tomatoes

Asparagus Spears

Pear

Grapes

Figs

Cherries

Dried Apricots

Muscatal Grapes
Crackers
Valley Produce Company Crackerthins Plain 100g (available from The Gourmet Pantry)

Valley Produce Company Artisan Crackers – (available in Cheese/ Kale/ Sea Salt/ Carrot/ Beetroot from The Gourmet Pantry

La Panzanella Mini Croccintini Original 85g (available in Original/ Rosemary / Black Pepper from The Gourmet Pantry)
You will also need:
Wooden Serving Board and Cheese Knives – check out the gorgeous wooden serving boards and
Laguiole Cheese Knives available in The Gourmet Pantry.
We would love to see your Cheese Board creations! Tag @thegourmetpantry.com.au on your socials.
Discover the delicious range of the finest gourmet products and premium gourmet hampers from Australia and the world available online now at The Gourmet Pantry.
Shop online 24/7. Free delivery Australia-wide on all orders over $60.