The Gourmet Pantry is proud to present our Tastes of Country – Indigenous Hamper Range.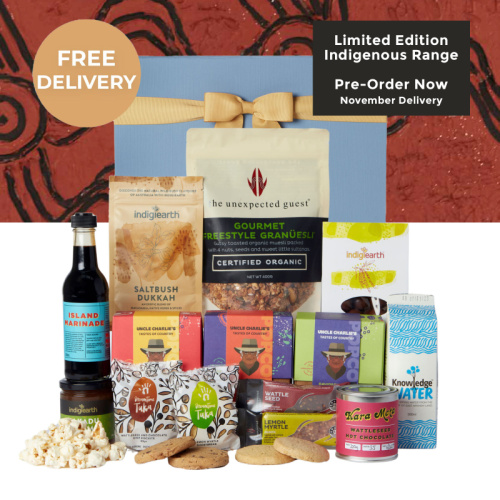 Every delicious gourmet product presented within the Tastes of Country hampers comes from 100% Aboriginal Owned Businesses, delivering a unique hamper offering from a diverse range of Indigenous nations throughout Australia.
Experience Australian native foods and botanical flavours from these incredible first nations producers, harvested and sourced through Aboriginal community knowledges and relationships.
The Gourmet Pantry is engaging with Indigenous Gourmet Food businesses – by engaging with them as sovereigns. This means we respect that each Indigenous business has their own way of conducting business that comes from their knowledges of Country. We engage with each business as a unique relationship as connected to their unique country knowledge.
By choosing a Tastes of Country hamper, you are supporting Aboriginal and Torres Strait Islander businesses that are entrepreneurial in practice and who have a shared commitment to sovereign wealth building.
Every hamper purchased provides a contribution to a Sovereign Wealth Fund to support indigenous economic development, providing a financial return to each Nation where the products are harvested, sourced, and created.