We're excited to launch The Gourmet Pantry's 2022 Spring/Summer luxury gourmet hamper range.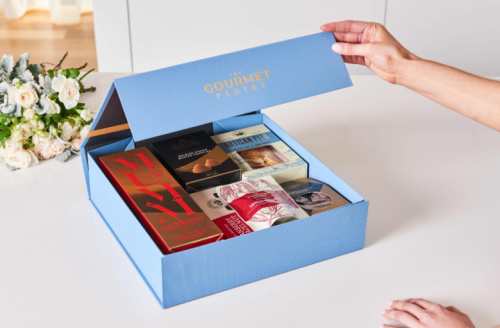 We have taken the best gourmet food products from Australia and the world, sourced the finest champagne, wine and spirits and have packed them lovingly into our stunning hamper boxes.
Our new line up of hampers includes the Tastes of Country – Indigenous Hamper Range. Every delicious gourmet product presented within the Tastes of Country hampers comes from 100% Aboriginal Owned Businesses, delivering a unique hamper offering from a diverse range of Indigenous nations throughout Australia. Experience Australian native foods and botanical flavours from these incredible first nations producers, harvested and sourced through Aboriginal community knowledges and relationships. 
Our new range also features the value hamper range, superb for bulk gifting and packed with gourmet treats that are sure to delight clients, customers and staff and start from just $39.95 with a free gift card and personalised message.
Our Christmas range of hampers are the perfect Christmas gift idea for family, friends, colleagues, staff or clients. They are filled with the finest Christmas products from Mince Tarts to Brandy Sauce.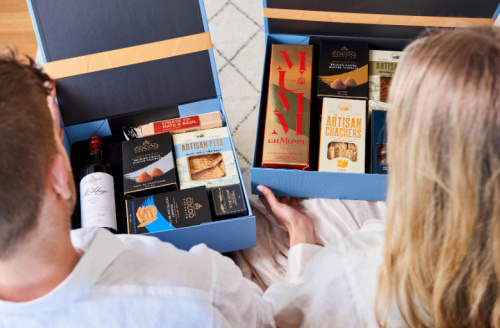 The decadent Wine, Beer & Champagne range of hampers features premium gourmet chocolates and nibbles paired with wine, beer and sparkling from the renowned Stoneleigh, St Hugo Barossa, Bells Beach Brewery and the finest champagne from G.H. Mumm. Our new range of spirit hampers now includes the finest collection of gin, whisky & cognac as well as a selection of favourite cocktails including martini, negroni & Manhattan.
Whether you need to send birthday wishes, anniversary congratulations, Christmas greetings or simply say thank you – our luxury gourmet hampers are sure to delight and impress.
Our corporate gifting suite makes it easy for anyone looking to thank and impress clients and staff. We can send a premium hamper in an insulated box direct to everyone of your clients or staff. To find out more about our range of corporate gifting options contact our Corporate Hamper Team: corporate@thegourmetpantry.com.au or phone 1300 936 406
All you need to do is choose which of our gorgeous hampers you would like to gift, and we'll take care of the rest – delivering to their door with free standard-speed shipping through the Australia Post network for all Gourmet Hampers over $80. Every hamper also includes a free greeting card and the option for a free personalised video message from you!