Celebrate Spring in style with our range of Luxury Gourmet Hampers featuring the finest Champagne from G.H. Mumm and premium sparkling wine from Mumm Marlborough.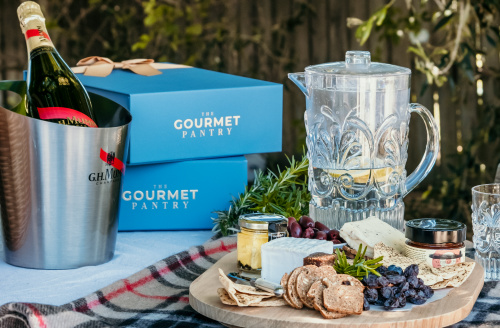 We have taken the best gourmet food products from Australia and the world and paired it with G.H.Mumm - the finest Champagne and Sparkling wine. Each G.H.Mumm hamper is carefully constructed to make sure all products complement each other, and the range offered is sure to provide the perfect accompaniment to any Spring celebrations.
Our finest G.H.Mumm Hampers include:
G.H.Mumm Cordon Rouge Champagne
Maison Mumm icon fresh and exhilarating. Rich fruit and praline notes. Since 1876, the bottle's red sash has been a reference to the French Legion d'Honneur. To best appreciate this champagne, drink it as a Spring aperitif or with brunch. Accompanied by fish sauce as mullet or trout. It can also be paired with white meats, Reims ham and creamy and mild cheeses such as Saint Nactaire.
The avent-garde curve is an attractive blend of modernity and 'Nec plus ultra'. Intense ripe fruit, vanilla and caramel. Fresh yet bold. The red sash carved into the glass recalls the House's iconic red ribbon. An audacious & innovative partnership with designer Ross Lovegrove. To best appreciate this champagne in Spring, try pairing it with elegant and refined cuisine such as carpaccio or grilled scallops.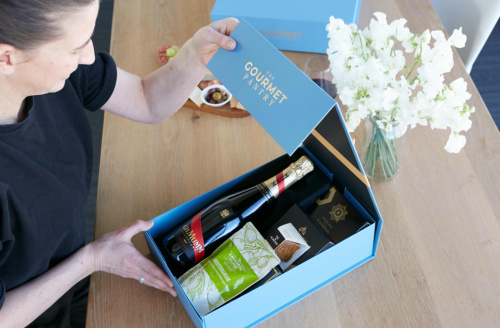 Marlborough Sparkling Vintage Rosé
Mumm Marlborough Vintage Rosé is a vintage cuvée made from 100% Pinot Noir grapes from the best parcels of their vineyards. The most attractive qualities of New Zealand Pinot Noir allow the creation of this complex and structured wine, with elegant floral & fruity notes. After four years of ageing, this cuvée reveals its aromatic potential: flavours of small red berries, cranberries and rose petals, complemented by notes of shortbread. An expressive and generous wine with great length on the palate and an attractive finish. Aged for four years in Mumm's cellars.
Mumm Marlborough Brut Prestige is a distinctive sparkling wine that marries the best of New Zealand Pinot Noir, Chardonnay and Meunier grapes with Méthode Traditionnelle techniques from the French Champagne Maison Mumm. The result is a refined, elegant wine of exceptional quality & delightful fruity notes. Notes of fresh fruit (pear, apricot, peach, and citrus) dominate, complemented by notes of honey and biscuit. After a frank and lively attack, fresh fruit notes permit a beautiful balance on the palate. A tense and attractive structured finish. Aged for a minimum of two years in our cellars.
This Spring, wherever you are, we want you and your family and friends to be celebrating with a refreshing glass of Mumm and enjoying the finest gourmet treats in Australia. Browse our G.H.Mumm hamper range and start planning your Spring celebrations.