Purchasing that 'new home' is a big milestone and one that should be celebrated. A simple yet thoughtful way to make any new homeowner feel warmly welcomed into their new house is an unexpected gift delivered to the door, especially when that gift includes delicious gourmet food, homewares and the finest champagne, wines, or craft beer.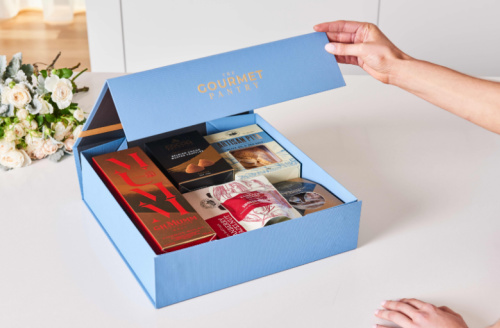 Moving into a new home can be chaotic and stressful with the process of unpacking and settling-in a big task to undertake. For the foodie however there is now doubt that the kitchen is the heart of the home and an important place to start. Give them the gift of a well-stocked pantry with the Pantry Hamper -a variety of gourmet pantry products featuring the amazing Tiberino quick and easy pasta & risottos, gingerbread mini's, panko crumbs, coconut flour and a delicious Tikka Masala sauce mix. There's also the Gourmet Selection Hamper which features a selection of delicious sweet and savoury products including artisan crackers, Belgian truffles, olives and olive oil making it a great start to settling in. Or customise their gift by shopping our huge range of gourmet food products. Discover delicious risottos, pasta, curries, and sauces for special meals to be had with family and friends.
With a new house comes lots of helpers and visitors so help the new homeowners out by gifting them with a Just Add Cheese hamper – a wonderful collection of crackers and condiments perfect for sharing cheeseboards to be enjoyed between the unpacking boxes and perfect for refuelling. And if they don't have a cheeseboard then gift them one of those too! Our range of Cheese boards gift sets includes a Laguiole Jean Neron Cheese Knife, made in France from high quality stainless steel complimenting the Acacia wood serving board.
At the end of any day moving into a new home it's time to pop the bubbly and toast to a new start. Our G.H.Mumm Champagne & Premium Chocolate hamper is the perfect gifting choice with a gorgeous gift box of G.H. Mumm Cordon Rouge Champagne and a range of delicious artisan Chocolates from Melbourne Cocoa. If you're not sure after the first day of unpacking they have found the Champagne glasses, then gift the G.H. Mumm Cordon Rouge 2 Flute Gift Pack. This stylish gift box holds 2 Mumm flutes and a bottle of Mumm Cordon Rouge NV Brut Champagne.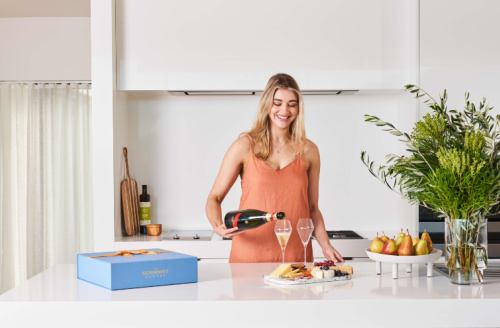 After the unpacking comes the housewarming party. A time when new homeowners welcome family, neighbours, and friends over to christen the new house. Not sure what to bring? How about the Red & White Gourmet Favourites hamper - A wonderful selection of gourmet products complements the delicious Stoneleigh Pinot Noir and Sauvignon Blanc included. Or the Foodies Gourmet Hamper with Mumm & St Hugo - the perfect gift hamper when a celebration is called for. Another favourite is the Taste Australia Gourmet Hamper including stunning Barossa Shiraz from St Hugo, craft beer from Bells Beach Brewing and the very finest gourmet products from around Australia. Whichever one you choose our luxury gourmet hampers are sure to delight and impress.
There is no doubt a new home is an exciting time, and a gourmet gift is a practical yet delicious way to help celebrate. The Gourmet Pantry offers the best range of products, gifts, and hampers for the new homeowner. It's a thoughtful surprise they will never forget!