Ultimate Gourmet Gift Basket
Luxury Gourmet Hamper
$499.95
In stock | Ships now
FREE Delivery Australia-Wide

When will my hamper arrive?
Express Delivery
1-3 Bus. Days
VIC, NSW, QLD metro
2-5 Bus. Days
TAS & SA metro
3-6 Bus. Days
WA, NT & regional areas
Standard Delivery
2-5 Bus. Days
VIC, NSW, QLD metro
3-6 Bus. Days
TAS & SA metro
5-12 Bus. Days
WA, NT & regional areas
Standard Shipping by Australia Post
- FREE!
| | |
| --- | --- |
| | FREE standard-speed shipping through the Australia Post network for all individual Gourmet Hampers that are over $100 each or Gourmet Food orders over $100 - expected delivery is between 4 and 6 business days (up to 8 for NT and WA). Click here for most up-to-date ETAs. For Father's Day, we recommend taking advantage of our discounted Express Post rates. Due to uncontrollable delays within the Australia Post network, it is possible that orders may take longer than this timeframe to be delivered. Please note that hampers will incur a shipping fee (if under $100 each) per hamper, as they are shipped separately. Australia shipping only. |
DEC Christmas Standard Delivery (Dispatch 1st Dec)
- FREE!
Pre-Order for Christmas Delivery! We will dispatch your gifts in the first week of December.
Using Standard Shipping, expected delivery is between 7 and 11 business days. Due to possible delays within shipping networks, it is possible that orders may take longer than this timeframe to be delivered.
Express Shipping by Australia Post
- $17.95
| | |
| --- | --- |
| | Express Shipping is now only $17.95 per Gourmet Hamper! The service is $17.95 per box shipped. Expected delivery time is 1-3 business days (3-5 for NT & WA). Click here for most up-to-date ETAs. Different addresses or multiple hampers will incur extra shipping fees. Additional Gourmet Food products cannot be shipped inside a pre-packed hamper, so if you purchase 1 hamper and also additional products, you will incur two delivery fees. Australia shipping only. Combining Gourmet Hampers and Gourmet Food products will incur multiple shipping charges, as additional products can very rarely be included inside the hamper itself, and need to be shipped separately. |
DEC Christmas Express Delivery (Dispatch 1st Dec)
- $17.95
Pre-Order for Christmas Delivery! We will dispatch your gifts in the first week of December..
With Express Delivery Service, expected delivery is between 2 and 7 business days. Due to possible delays within shipping networks, it is possible that orders may take longer than this timeframe to be delivered.
Free Click & Collect - Surf Coast, Victoria
- FREE!
Free pick up from our facility in Torquay, VIC.
We'll send you an email once we've picked and packed your order and it's ready to pick up! Let us know what day and roughly what time you'd like to pick up your order using the Delivery Instructions field below, and we'll have it ready for you to pick up from 2 Sawmills Way, Torquay. Give us a call on 1300 936 406 for any additional questions or concerns.
| | |
| --- | --- |
| SKU | 9329772104787 |
| Barcode # | 9329772104787 |
| Brand | The Gourmet Pantry |
| Nutritional Information | Refer to individual products in hamper |
| Storage Conditions | Store in a cool, dry place |
What's inside this hamper?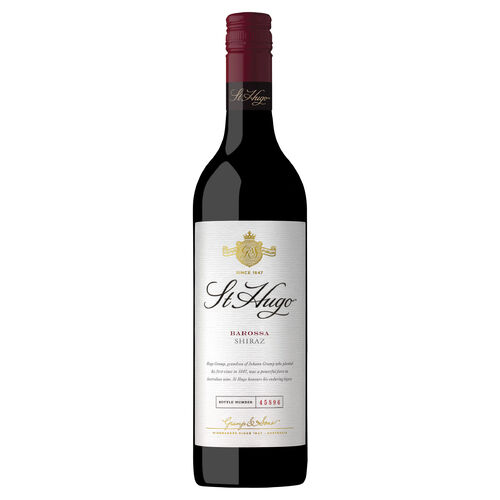 ST HUGO BAROSSA SHIRAZ 750ML
This fine Australian red wine has been lauded for its depth, intensity and ability to age gracefully.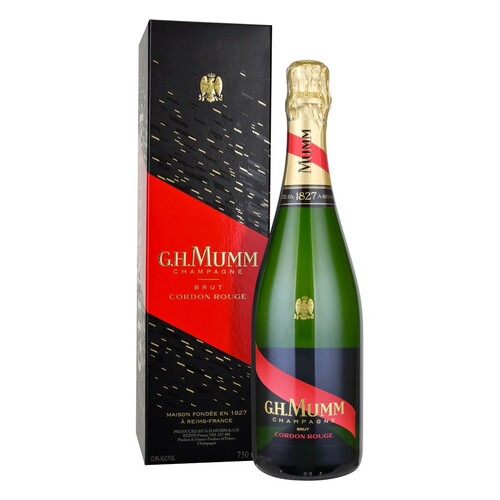 G.H. MUMM CORDON ROUGE NV CHAMPAGNE GIFT BOX 750ML
Beautifully presented in a celebratory gift box, this exquisite Champagne is sure to delight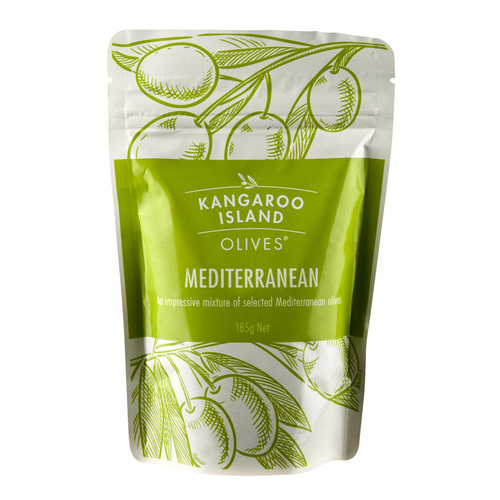 KANGAROO ISLAND OLIVES - MEDITERRANEAN OLIVES 185G
A mixed variety of seasonal olives picked throughout the harvest window.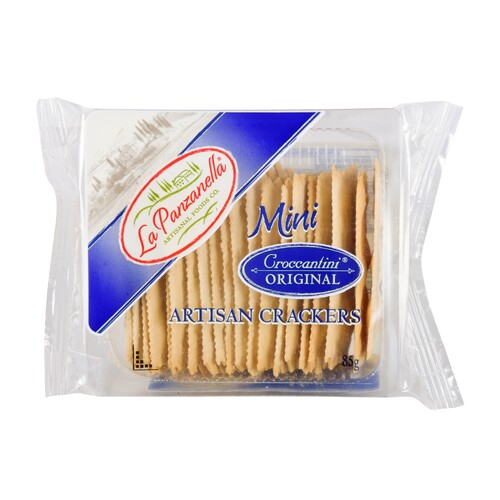 LA PANZANELLA - MINI CROCCANTINI ORIGINAL 85G
With a touch of coarse sea salt, these crisp, light crackers create a perfect complement to cheeses, tapenades and charcuterie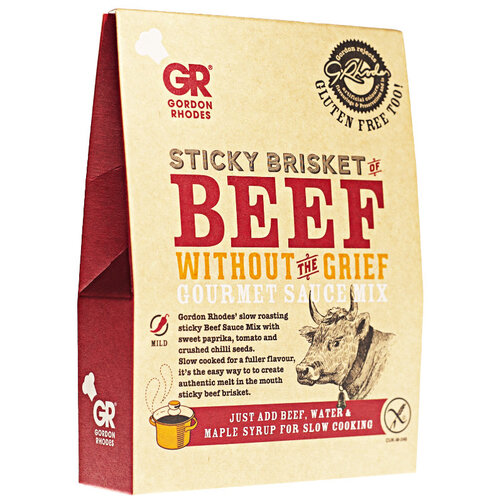 GORDON RHODES - STICKY BRISKET BEEF GOURMET SAUCE MIX 75G
Slow roasting sticky Beef Sauce mix with sweet paprika, tomato and crushed chilli seeds.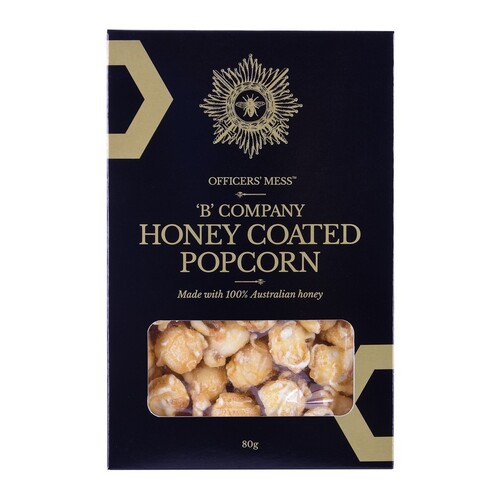 TRCC - 'B' COMPANY HONEY COATED POPCORN 80G
Delicious honey coated popcorn made with 100% Australian Honey from The Regimental Condiment Company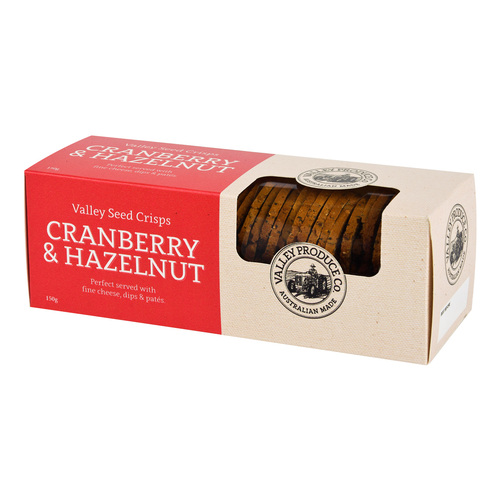 VPC - VALLEY SEED CRISPS CRANBERRY & HAZELNUT 150G
The VPC Valley Seed Crisps are the ultimate accompaniment to fine cheese with the sweetness of cranberries complemented by roasted hazelnuts.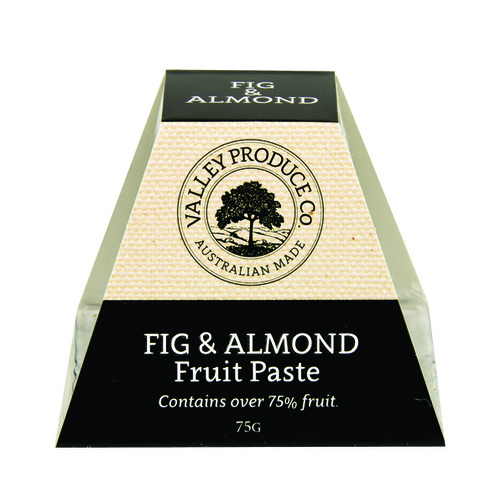 VPC - FRUIT PYRAMID FIG & ALMOND 75G
Valley Produce Co use black mission figs, caramalised to develop a rich, sweet flavour and combined with freshly roasted, crushed almonds
VPC - MINI ARTISAN CRACKERS SEA SALT 110G
The VPC Mini Artisan Crackers are baked with Sea Salt and their crispy lightness make them an ideal snack or accompaniment to cheese.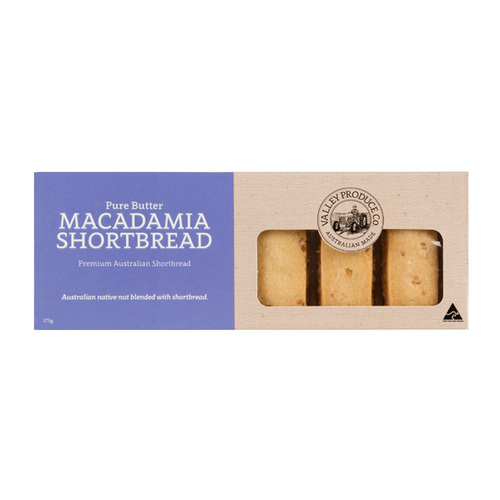 VPC - PURE BUTTER MACADAMIA SHORTBREAD 175G
The very best quality shortbread made using the freshest and finest all natural and all Australian ingredients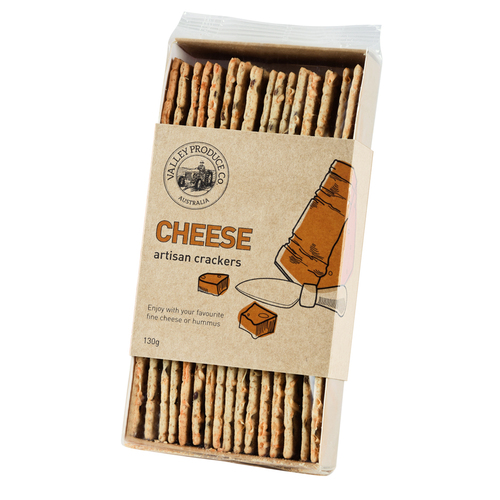 VPC - ARTISAN FLATBREAD CRACKERS - CHEESE 130G
The perfect cracker accompaniment for your Cheese Platter.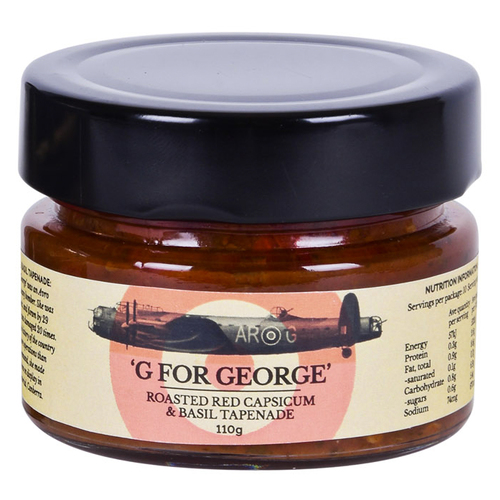 TRCC 'G FOR GEORGE' TAPENADE 110G
A delicious red capsicum tapenade is perfect for spreading on crackers and is a tasty addition to cheese platters.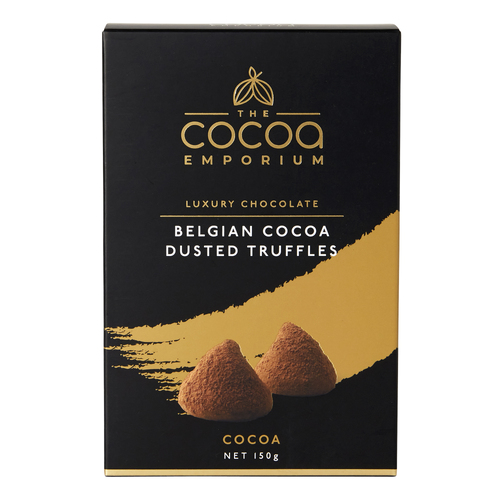 TCE - BELGIAN CHOCOLATE TRUFFLES - COCOA 150G
Decadent Cocoa Dusted Truffles made with the finest Belgian Chocolate.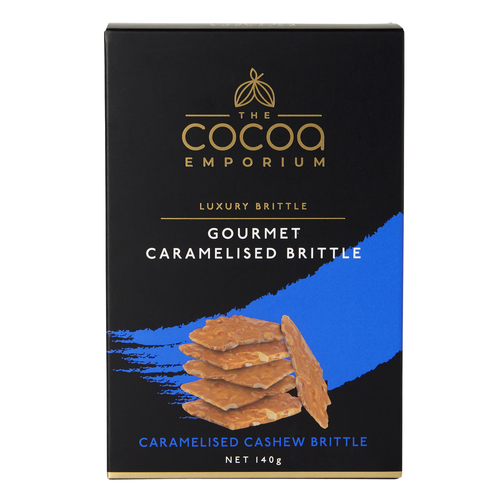 TCE - CARAMELISED CASHEW BRITTLE 140G
Roasted cashews smothered in caramelised brittle makes for a decadent treat with thin, crisp and crunchy pieces.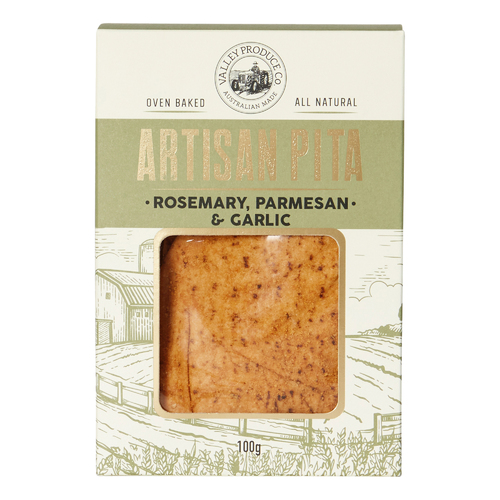 VPC ARTISAN PITA BOX - ROSEMARY PARMESAN & GARLIC 100G
These new Artisan Pita are all natural, oven baked and Australian made. Baked with Rosemary, Parmesan and Garlic, these delicious crispy, crunchy pita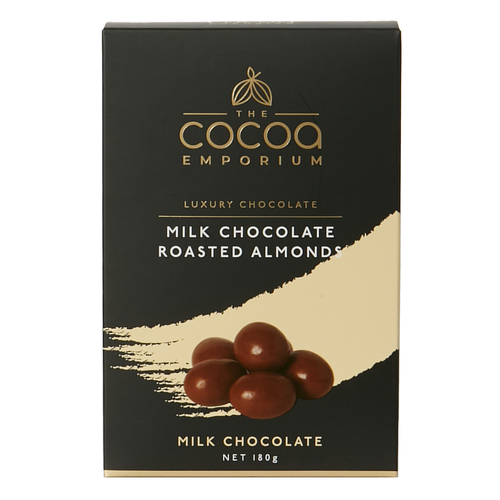 TCE - MILK CHOCOLATE ROASTED ALMONDS 180G
Crunchy roasted almonds smothered in milk chocolate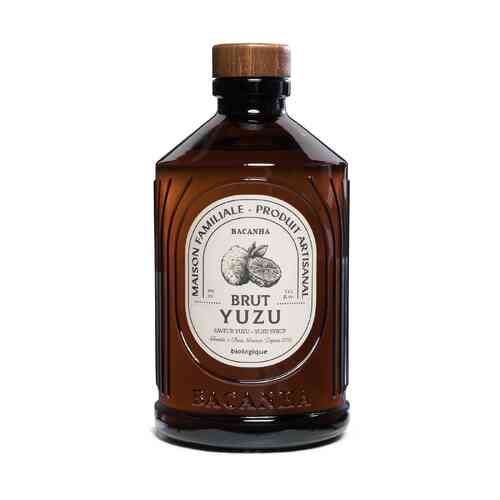 BACANHA SIROP BRUT De YUZU 400ml
Yuzu syrup by Bacanha is an aromatic concentrate of this exceptional citrus fruit from Asia. Its aroma is tangy, fruity and its lemony scent is unique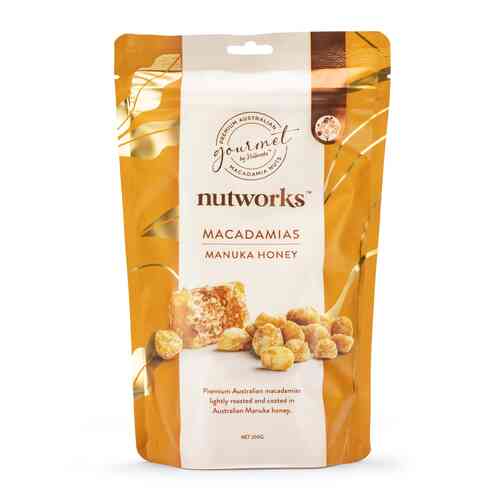 NUTWORKS MANUKA HONEY MACADAMIAS
Enjoy a match made in heaven - our premium dry roasted macadamia nuts hand-coated in a pure Australian Manuka honey, made with love by local bees!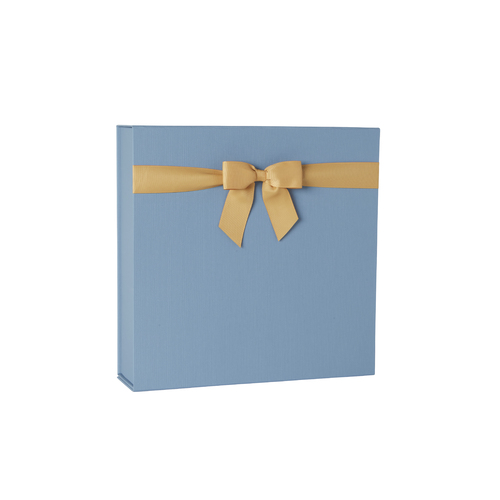 PREMIUM HAMPER BOX WITH GOLD RIBBON
Our stunning new French Blue Gourmet Hamper Box is sure to impress and is finished with quality gold ribbon.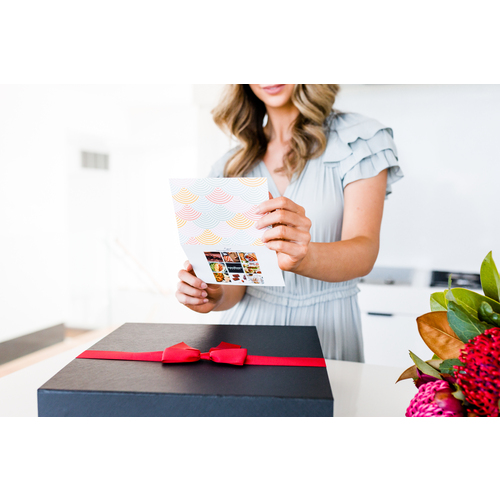 FREE PERSONALISED GIFT CARD
Send a personalised message on one of our FREE gift cards with options to suit every occasion
FREE STANDARD DELIVERY AUSTRALIA-WIDE ON THIS PREMIUM HAMPER
All our Standard Delivery orders are sent with Australia Post with deliveries made during business hours Monday to Friday – except public holidays.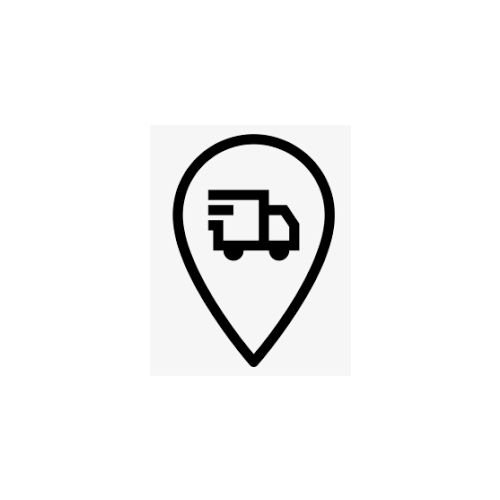 TRACK & TRACE ON ALL PARCELS
You will receive an email when we have packed and dispatched your order with the information you need to track the delivery Australia-wide
Very infrequently, we may be out of stock of an individual component in this hamper. Not to worry, though! We will always substitute a missing product for one of equal or higher value. In most cases, we'll even keep the category of product the same. In the unlikely event that it happens, any substitution of products within a hamper will most-likely be just a different flavour or variety of the same product.
Why they'll love this hamper:
Experience the pinnacle of luxury gifting with The Gourmet Pantry's Ultimate Gourmet Gift Basket. As Australia's premium destination for gourmet hampers, this handpicked assortment is the embodiment of opulence. Boasting a curated selection of the world's finest gourmet foods, wines, and champagnes, each item harmoniously complements one another, ensuring an unmatched taste sensation.

Housed in our French Blue Gourmet Hamper Box, adorned with a lustrous gold ribbon, this hamper is the perfect statement of grandeur. Imagine the delight when your recipient unravels the richness encased within. With our Free Standard Delivery Australia-Wide, sending this luxury to someone anywhere in the country is effortless.

For the chocolate aficionados, TCE's Milk Chocolate Roasted Almonds and Belgian Chocolate Truffles provide a velvety, rich experience. The nutty undertone of the almonds and the deep cocoa dusting on the truffles pair excellently with the aromatic ST Hugo Barossa Shiraz. This Australian red wine is celebrated for its depth and intensity.

Accompanying these are the salty crunch of Kangaroo Island Olives and La Panzanella's Mini Croccantini. Perfect for the cheeseboard are VPC's Artisan Flatbread Crackers and the Valley Seed Crisps with hints of cranberry and hazelnut. To heighten the senses further, the TRCC 'G for George' Tapenade and the Truffle Infused Honey offer a beautiful balance of savoury and sweet.

For a true taste of Australia, the Nutworks Manuka Honey Macadamias and TRCC's Honey Coated Popcorn are a treat. These are closely rivalled by the VPC Pure Butter Macadamia Shortbread - a deliciously buttery delicacy.

Celebratory moments are marked with the effervescence of the G.H. Mumm Cordon Rouge NV Champagne, presented in an exquisite gift box. Paired with the Bacanha Sirop Brut De Yuzu, the citrus notes of this Asian concentrate sing.

Rest assured, tracking your lavish gift is simple with our Track & Trace on all parcels. Plus, to make your gesture even more heartfelt, include a note with our Free Personalised Gift Card.

With a price tag of $499.95, the Ultimate Gourmet Gift Basket, placed within a rectangular wicker basket, isn't just a gift; it's a statement. Whether commemorating an anniversary, birthday, or any special moment, this hamper is the epitome of sophistication.