Gourmet Grazing Hamper with Red Wine
Luxury Gourmet Hamper
$139.95
In stock | Ships now
FREE Delivery Australia-Wide

When will my hamper arrive?
Express Delivery
1-3 Bus. Days
VIC, NSW, QLD metro
2-5 Bus. Days
TAS & SA metro
3-6 Bus. Days
WA, NT & regional areas
Standard Delivery
2-5 Bus. Days
VIC, NSW, QLD metro
3-6 Bus. Days
TAS & SA metro
5-12 Bus. Days
WA, NT & regional areas
Express Shipping by Australia Post
- FREE!
| | |
| --- | --- |
| | Express Shipping is now only $17.95 per Gourmet Hamper! The service is $17.95 per box shipped. Expected delivery time is 1-3 business days (3-5 for NT & WA). Click here for most up-to-date ETAs. Different addresses or multiple hampers will incur extra shipping fees. Additional Gourmet Food products cannot be shipped inside a pre-packed hamper, so if you purchase 1 hamper and also additional products, you will incur two delivery fees. Australia shipping only. Combining Gourmet Hampers and Gourmet Food products will incur multiple shipping charges, as additional products can very rarely be included inside the hamper itself, and need to be shipped separately. |
Standard Shipping by Australia Post
- FREE!
| | |
| --- | --- |
| | FREE standard-speed shipping through the Australia Post network for all individual Gourmet Hampers that are over $100 each or Gourmet Food orders over $100 - expected delivery is between 4 and 6 business days (up to 8 for NT and WA). Click here for most up-to-date ETAs. For Christmas, we recommend taking advantage of our discounted Express Post rates. Due to uncontrollable delays within the Australia Post network, it is possible that orders may take longer than this timeframe to be delivered. Please note that hampers will incur a shipping fee (if under $100 each) per hamper, as they are shipped separately. Australia shipping only. |
Free Click & Collect - Surf Coast, Victoria
- FREE!
Free pick up from our facility in Torquay, VIC.
We'll send you an email once we've picked and packed your order and it's ready to pick up! Let us know what day and roughly what time you'd like to pick up your order using the Delivery Instructions field below, and we'll have it ready for you to pick up from 2 Sawmills Way, Torquay. Give us a call on 1300 936 406 for any additional questions or concerns.
| | |
| --- | --- |
| SKU | 9329772104657 |
| Barcode # | 9329772104657 |
| Brand | The Gourmet Pantry |
| Nutritional Information | Refer to individual products in hamper |
| Storage Conditions | Store in a cool, dry place |
What's inside this hamper?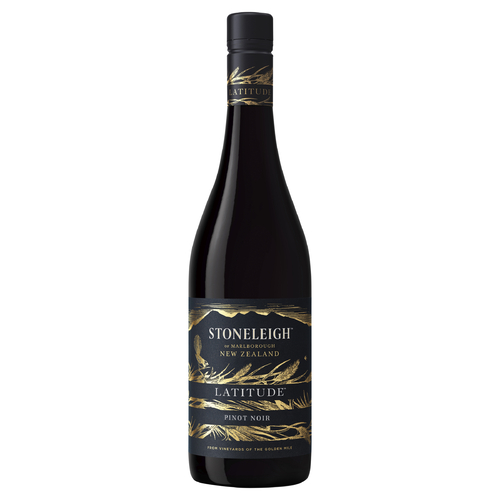 STONELEIGH - LATITUDE SERIES PINOT NOIR 750ML
Stoneleigh Latitude Series Pinot Noir is a wonderfully aromatic, fresh wine from Marlborough's 'Golden Mile'.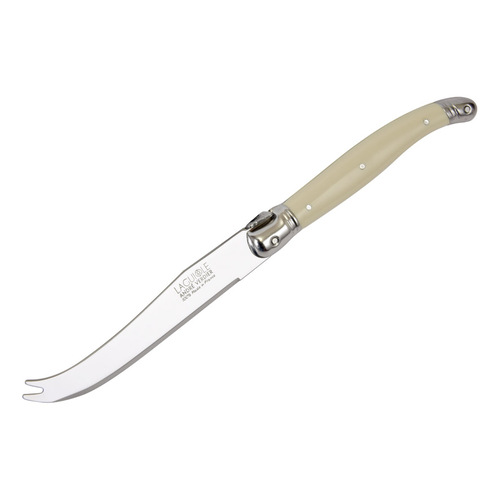 LAGUIOLE BY JEAN NERON CHEESE KNIFE
This stainless steal knife is the perfect addition to your cheeseboard, with it's classic quality design.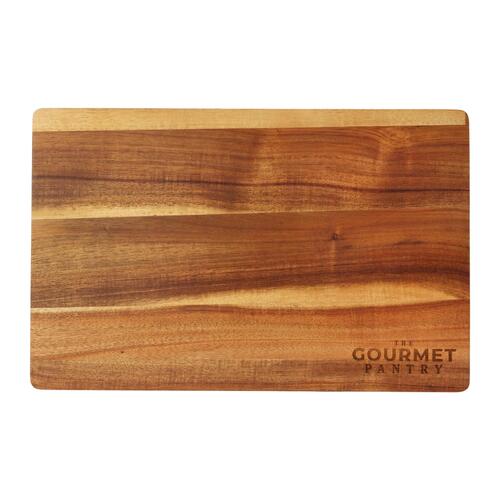 TGP PREMIUM CHEESE BOARD
Prepare the perfect cheese board on this quality cheeseboard from The Gourmet Pantry. 34x22cms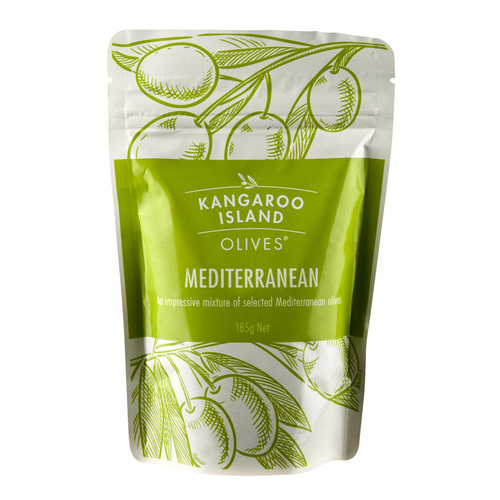 KANGAROO ISLAND OLIVES - MEDITERRANEAN OLIVES 185G
A mixed variety of seasonal olives picked throughout the harvest window.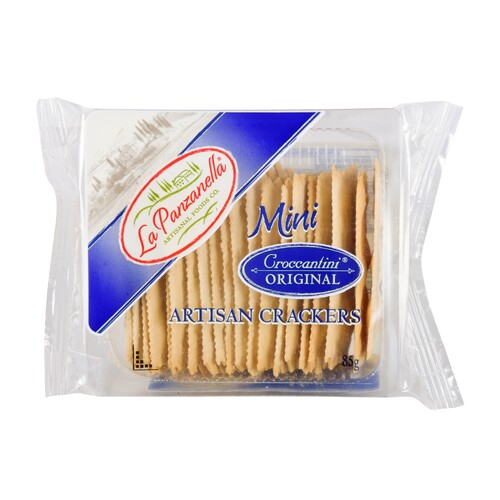 LA PANZANELLA - MINI CROCCANTINI ORIGINAL 85G
With a touch of coarse sea salt, these crisp, light crackers create a perfect complement to cheeses, tapenades and charcuterie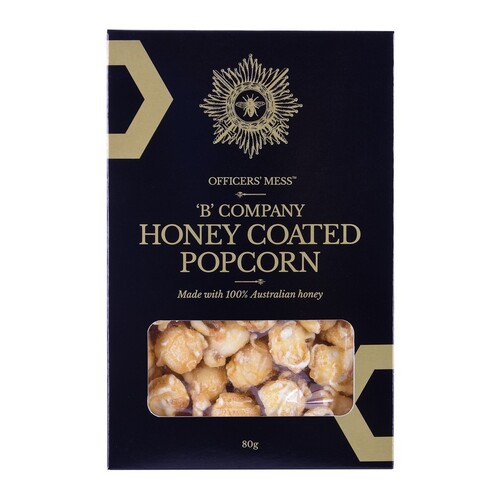 TRCC - 'B' COMPANY HONEY COATED POPCORN 80G
Delicious honey coated popcorn made with 100% Australian Honey from The Regimental Condiment Company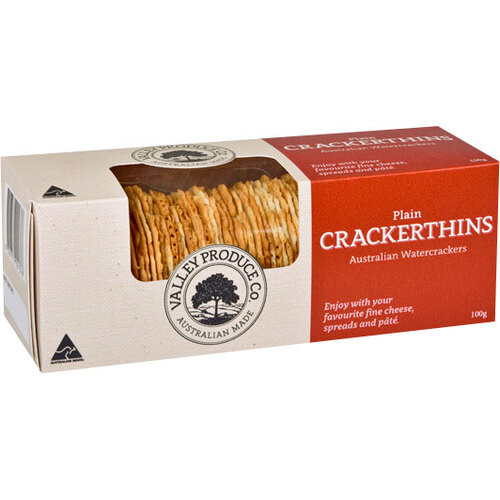 VPC - CRACKERTHINS PLAIN 100G
A premium water cracker. Fantastic with your favourite fine cheese and VPC Fruit pyramids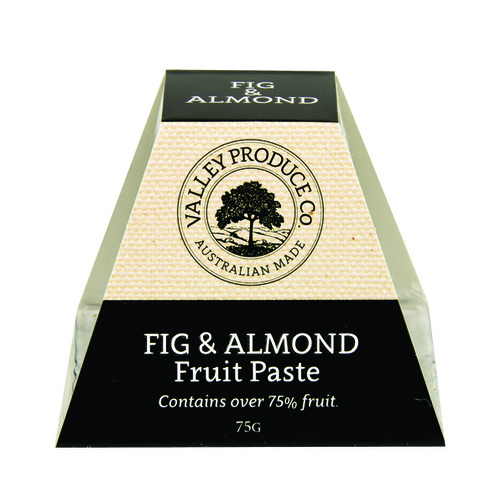 VPC - FRUIT PYRAMID FIG & ALMOND 75G
Valley Produce Co use black mission figs, caramalised to develop a rich, sweet flavour and combined with freshly roasted, crushed almonds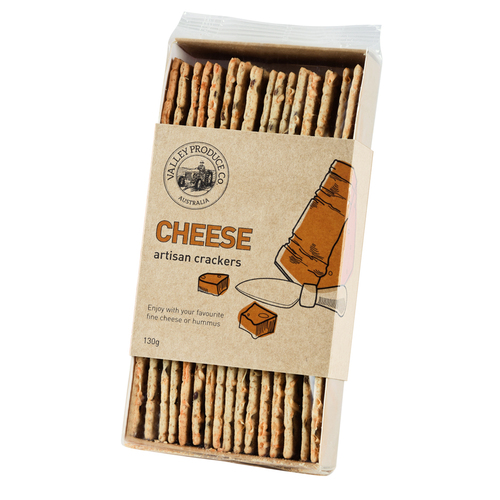 VPC - ARTISAN FLATBREAD CRACKERS - CHEESE 130G
The perfect cracker accompaniment for your Cheese Platter.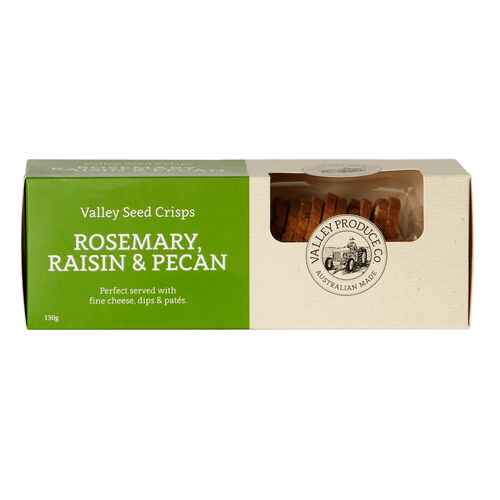 VPC VALLEY SEED CRISPS - ROSEMARY, RAISIN & PECAN 150G
These quality crackers pair perfectly with soft cheese and pate.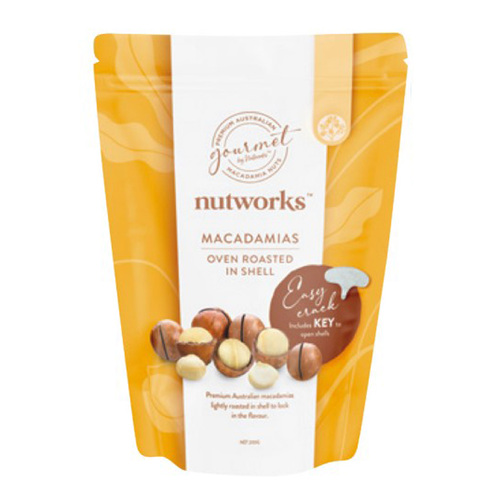 NUTWORKS OVEN-ROASTED MACADAMIA IN SHELL
Our premium macadamia kernels are carefully dry roasted in shell to create that perfect crunch. The macadamia shell is slit over the center of the nut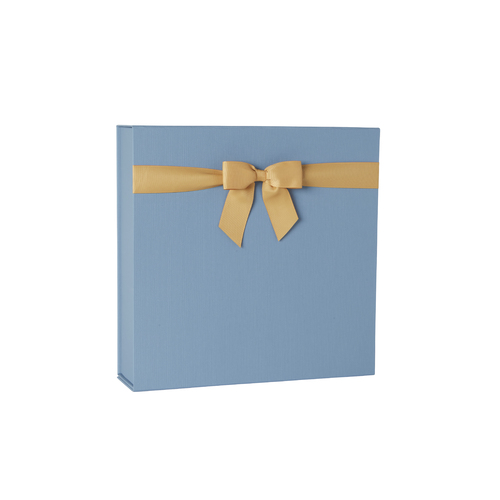 PREMIUM HAMPER BOX WITH GOLD RIBBON
Our stunning new French Blue Gourmet Hamper Box is sure to impress and is finished with quality gold ribbon.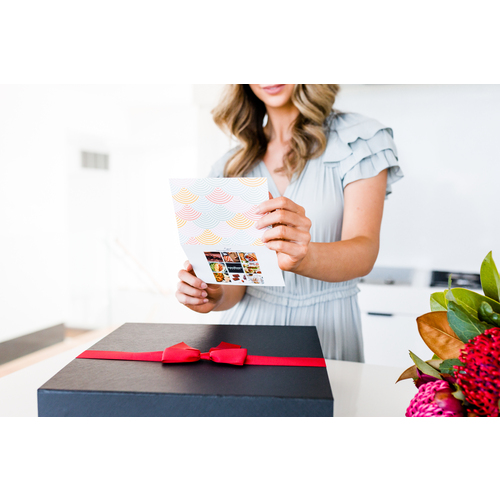 FREE PERSONALISED GIFT CARD
Send a personalised message on one of our FREE gift cards with options to suit every occasion
FREE STANDARD DELIVERY AUSTRALIA-WIDE ON THIS PREMIUM HAMPER
All our Standard Delivery orders are sent with Australia Post with deliveries made during business hours Monday to Friday – except public holidays.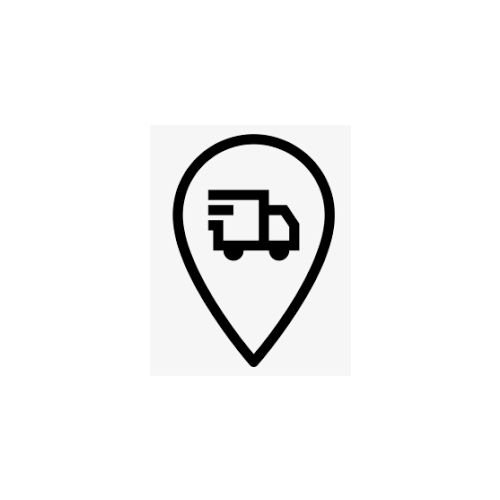 TRACK & TRACE ON ALL PARCELS
You will receive an email when we have packed and dispatched your order with the information you need to track the delivery Australia-wide
Very infrequently, we may be out of stock of an individual component in this hamper. Not to worry, though! We will always substitute a missing product for one of equal or higher value. In most cases, we'll even keep the category of product the same. In the unlikely event that it happens, any substitution of products within a hamper will most-likely be just a different flavour or variety of the same product.
Why they'll love this hamper:
Indulge in a lavish spread with The Gourmet Pantry's exquisite Gourmet Grazing Hamper with Red Wine – a symphony of premium flavours that captures the essence of gourmet indulgence. Proudly standing as one of Australia's favourite luxury gift hampers, this curated ensemble showcases the best of both local and international gourmet delights, bundled with the magic of free shipping Australia-wide.

Dive into the elegance of VPC's Artisan Flatbread Crackers – the quintessential cheese platter companion, artfully crafted for the discerning palate. Complement these with La Panzanella's Mini Croccantini Original, a hint of coarse sea salt offering a delicate contrast to cheeses and charcuterie. VPC's Crackertins Plain, a premium water cracker, pairs delightfully with your recipient's favourite fine cheese and the tantalising VPC Fruit Pyramid Fig & Almond, where caramelised black mission figs and freshly roasted almonds dance in harmonious flair.

Introducing a Mediterranean twist, the Kangaroo Island Olives presents a mixed variety of hand-picked seasonal olives, an ode to time-honoured tradition. Add a sprinkle of sophistication with the VPC Valley Seed Crisps in Rosemary, Raisin & Pecan, a gourmet cracker that whispers tales of artisanal craftsmanship and pairs seamlessly with soft cheese and pate.

The charm doesn't stop there. A delightful treat awaits with TRCC's 'B' Company Honey Coated Popcorn, an Australian honey-infused wonder. And for a touch of opulence, savour the delectable Nutworks Oven-Roasted Macadamia in Shell, dry roasted to perfection, sealing the nut's essence and impeccable crunch.

Stealing the limelight, however, is the Stoneleigh Latitude Series Pinot Noir. A fine wine hailing from Marlborough's esteemed 'Golden Mile', this red wine is aromatic, fresh, and a testament to quality vineyards, encapsulating the essence of Red Wine Hampers.

To elevate the gift-giving experience, the hamper boasts a Laguiole by Jean Neron Cheese Knife, an embodiment of classic design and finesse, alongside TGP's Premium Cheese Board, ensuring every cheese experience is a memorable affair. Each product is nestled within our French Blue Gourmet Hamper Box, adorned with a quality gold ribbon, making unwrapping a joyous occasion in itself.

Priced at just $139.95, this luxury gourmet hamper offers undeniable value. With track & trace on all parcels, your recipient will anticipate its arrival. Plus, with our free personalised gift card options, you can convey heartfelt messages for birthdays, anniversaries, corporate milestones, or any special occasion. Delight someone today with this exquisite Red Wine Hamper from The Gourmet Pantry, and let them dive into a world of gourmet excellence.