Luxe Feast Hamper
Luxury Gourmet Hamper
$99.95
In stock | Ships now
FAST Delivery Australia-Wide

When will my hamper arrive?
Express Delivery
1-3 Bus. Days
VIC, NSW, QLD metro
2-5 Bus. Days
TAS & SA metro
3-6 Bus. Days
WA, NT & regional areas
Standard Delivery
2-5 Bus. Days
VIC, NSW, QLD metro
3-6 Bus. Days
TAS & SA metro
5-12 Bus. Days
WA, NT & regional areas
Standard Shipping by Australia Post
- $14.95
| | |
| --- | --- |
| | FREE standard-speed shipping through the Australia Post network for all individual Gourmet Hampers that are over $100 each or Gourmet Food orders over $100 - expected delivery is between 4 and 6 business days (up to 8 for NT and WA). Click here for most up-to-date ETAs. For Christmas, we recommend taking advantage of our discounted Express Post rates. Due to uncontrollable delays within the Australia Post network, it is possible that orders may take longer than this timeframe to be delivered. Please note that hampers will incur a shipping fee (if under $100 each) per hamper, as they are shipped separately. Australia shipping only. |
Express Shipping by Australia Post
- $17.95
| | |
| --- | --- |
| | Express Shipping is now only $17.95 per Gourmet Hamper! The service is $17.95 per box shipped. Expected delivery time is 1-3 business days (3-5 for NT & WA). Click here for most up-to-date ETAs. Different addresses or multiple hampers will incur extra shipping fees. Additional Gourmet Food products cannot be shipped inside a pre-packed hamper, so if you purchase 1 hamper and also additional products, you will incur two delivery fees. Australia shipping only. Combining Gourmet Hampers and Gourmet Food products will incur multiple shipping charges, as additional products can very rarely be included inside the hamper itself, and need to be shipped separately. |
Free Click & Collect - Surf Coast, Victoria
- FREE!
Free pick up from our facility in Torquay, VIC.
We'll send you an email once we've picked and packed your order and it's ready to pick up! Let us know what day and roughly what time you'd like to pick up your order using the Delivery Instructions field below, and we'll have it ready for you to pick up from 2 Sawmills Way, Torquay. Give us a call on 1300 936 406 for any additional questions or concerns.
| | |
| --- | --- |
| SKU | 9329772104343 |
| Barcode # | 9329772104343 |
| Brand | The Gourmet Pantry |
| Nutritional Information | Refer to individual products in hamper |
| Storage Conditions | Store in a cool, dry place |
What's inside this hamper?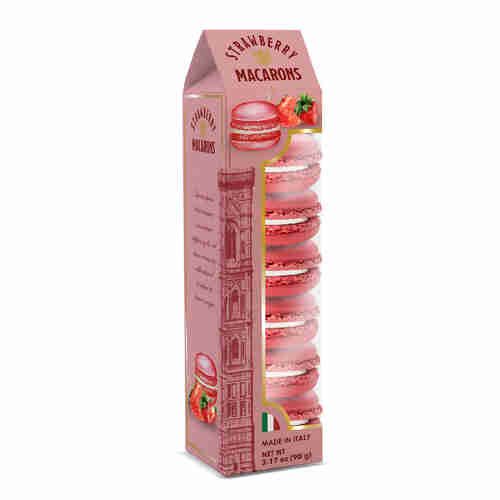 BORGO De MEDICI MACARON - STRAWBERRY 90g
A meringue-based cookie from Borgo de Medici featuring a strawberry-flavoured cream in between two almond flour-based shells. A crispy, light, airy co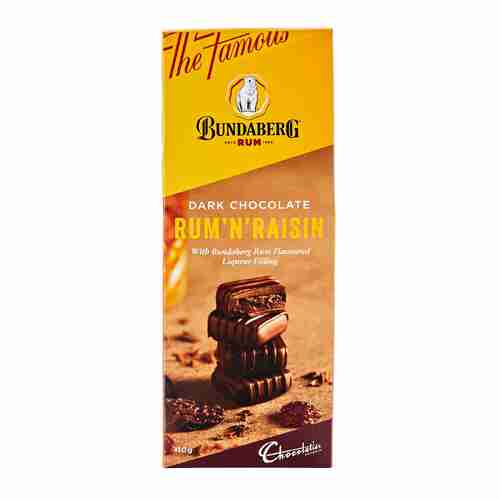 CHOCOLATIER BUNDABERG RUM TRUFFLES
Dark Chocolate Rum & Raisin with Bundaberg Rum flavoured liqueur filling.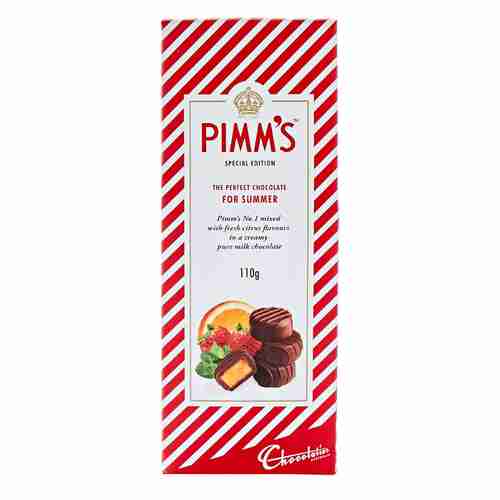 CHOCOLATIER PIMM'S LIQUEUR TRUFFLES
Pimm's No. 1 mixed with fresh citrus flavours in a creamy pure milk chocolate.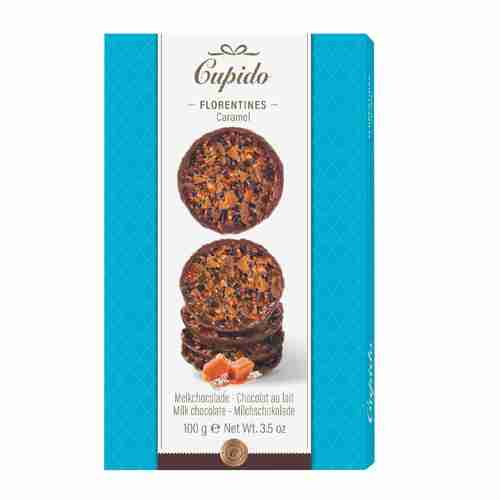 CUPIDO FLORENTINES CARAMEL MILK CHOCOLATE
The best of Belgian Chocolate, Cupido delivers a range of soft, smooth and delicious chocolate made in Belgium. These are sure to be a favourite of yo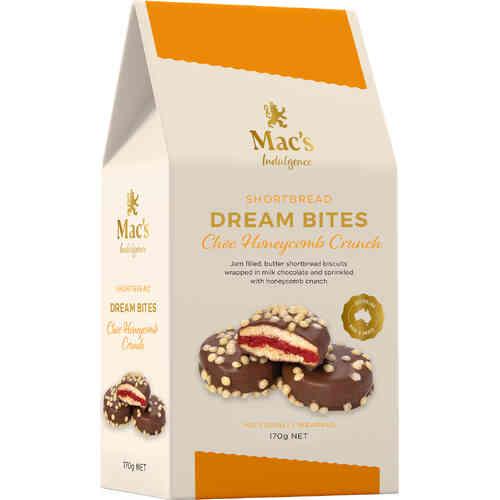 MAC'S INDULGENCE SHORTBREAD BITES CHOC-HONEYCOMB CRUNCH
Jam-filled, butter shortbread biscuits wrapped in milk chocolate and sprinkled with honeycomb crunch. Mac's Indulgence Shortbread Dream Bites Choc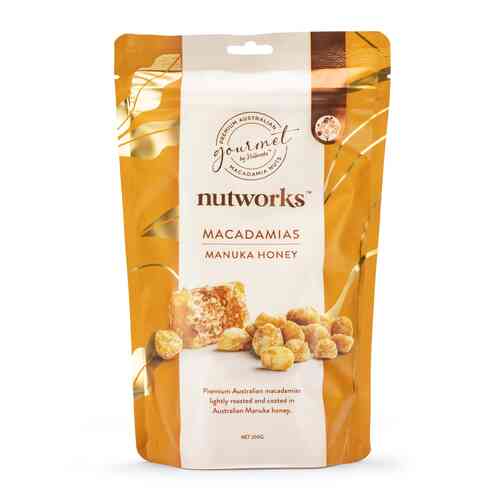 NUTWORKS MANUKA HONEY MACADAMIAS
Enjoy a match made in heaven - our premium dry roasted macadamia nuts hand-coated in a pure Australian Manuka honey, made with love by local bees!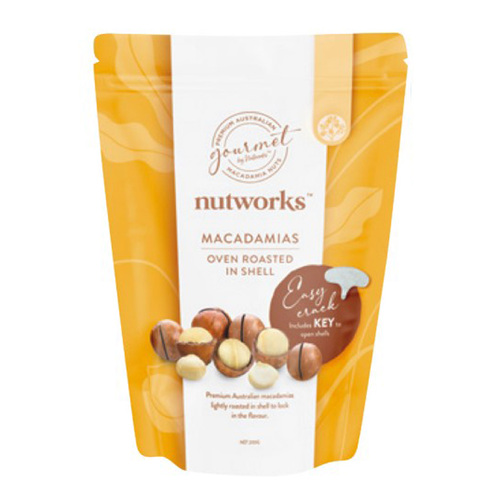 NUTWORKS OVEN-ROASTED MACADAMIA IN SHELL
Our premium macadamia kernels are carefully dry roasted in shell to create that perfect crunch. The macadamia shell is slit over the center of the nut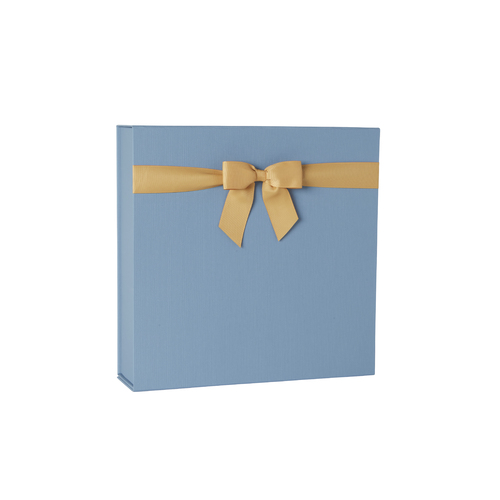 PREMIUM HAMPER BOX WITH GOLD RIBBON
Our stunning new French Blue Gourmet Hamper Box is sure to impress and is finished with quality gold ribbon.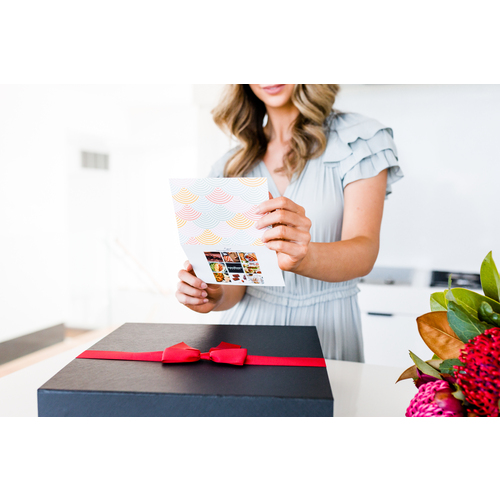 FREE PERSONALISED GIFT CARD
Send a personalised message on one of our FREE gift cards with options to suit every occasion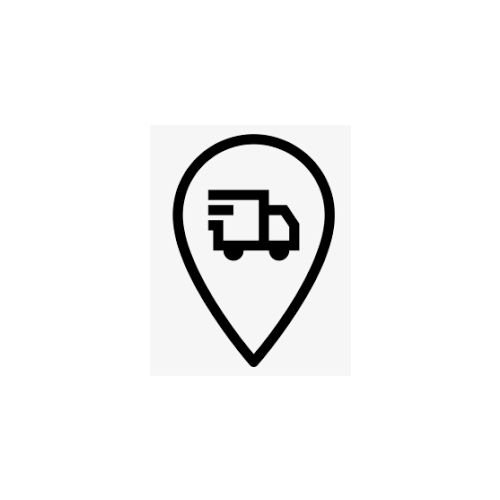 TRACK & TRACE ON ALL PARCELS
You will receive an email when we have packed and dispatched your order with the information you need to track the delivery Australia-wide
Very infrequently, we may be out of stock of an individual component in this hamper. Not to worry, though! We will always substitute a missing product for one of equal or higher value. In most cases, we'll even keep the category of product the same. In the unlikely event that it happens, any substitution of products within a hamper will most-likely be just a different flavour or variety of the same product.
Why they'll love this hamper:
Unveil a world of taste and luxury with The Gourmet Pantry's exquisite Luxe Feast Hamper. Representing the pinnacle of gourmet sophistication, this hamper embodies the very essence of indulgence and has been handpicked to thrill even the most discerning palate. Crafted to cater to all occasions - be it Christmas, anniversaries, birthdays, or a heartfelt thank you, this hamper is a magnificent choice for those seeking to gift something memorable.

Contained within a sophisticated French Blue Gourmet Hamper Box adorned with a quality gold ribbon, the recipient's heart is sure to skip a beat as they untie the bow to reveal a tantalising array of gourmet delights. Each product tells its own tale of artistry, hailing from the best Australian and global producers, ensuring every bite and sip transports them to a world of gastronomic wonder.

Borgo De Medici's Strawberry Macaron leads the way, presenting a light, crispy meringue shell filled with lush strawberry cream. Following suit, we have Chocolatier's Bundaberg Rum Truffles - an enthralling blend of dark chocolate, rum and raisin, guaranteed to take their senses on an exhilarating journey. Not to be overshadowed, the Chocolatier Pimm's Liqueur Truffles encapsulates the spirit of Pimm's No. 1 and fresh citrus in smooth, creamy chocolate.

For those partial to a chocolate treat, the Cupido Florentines Caramel Milk Chocolate showcases the best of Belgian craftsmanship, promising to become their new favourite. The Mac's Indulgence Shortbread Bites with Choc-Honeycomb Crunch merge buttery shortbread with the sweet allure of honeycomb and chocolate, defining decadence.

And what better way to honour Australia than with the inclusion of Nutworks. Their Manuka Honey Macadamias blend the sweet notes of Manuka honey with the richness of roasted macadamia nuts, while their Oven-Roasted Macadamia stands as a testament to the pure, unadulterated pleasure of crunch and flavour.

Beyond the gourmet goodies, thoughtful inclusions like the FREE Personalised Gift Card ensure your sentiments are conveyed perfectly. Added assurance comes from our efficient Track & Trace on all parcels, ensuring transparency and peace of mind as the precious hamper makes its journey across Australia.

Priced at just $99.95, this non-alcoholic gourmet food hamper represents unmatched value. This isn't just a gift; it's an experience. So, the next time you're seeking a sweet hamper that speaks volumes, remember, the Luxe Feast Hamper from The Gourmet Pantry is an ode to opulence, ready to tantalise their senses and create cherished memories.