Take your greeting message to the next level with a personalised video message. Create a one-of-a-kind card by adding your personalised video to one of our free gift cards adding that personalised touch.
All your recipient needs to do is scan the QR code we will print on your free greeting card to view a recorded greeting from you straight to their phone! A great way to make your message more memorable. It takes only a few easy steps, and it'll be sent along with their Luxury Gourmet Hamper so they can enjoy it and even share it with others.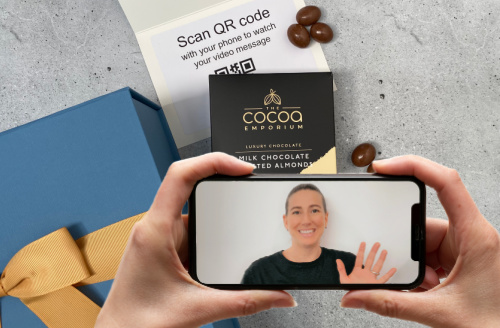 How it works
Record your message on your phone using video and save the video to your camera reel or computer
Add to cart your Premium Gourmet Hamper from The Gourmet Pantry
View cart and click 'customised gift card'
Click 'personalised your video and message gift card'
Choose your card design and hit 'next'
Enter the recipient's name, your message, who the card is from and click 'upload your video' to add the video from your phone or computer and hit 'next'
A personalised QR code will be added and printed inside your card along with your message and sent out with your hamper of choice. Once scanned by your recipient your video message will appear for them.
It's a special and unique way to connect with family, friends, colleagues, staff or clients making your gift to them more personalised. And it's free with every hamper purchase.