Egg Hunting & Gifting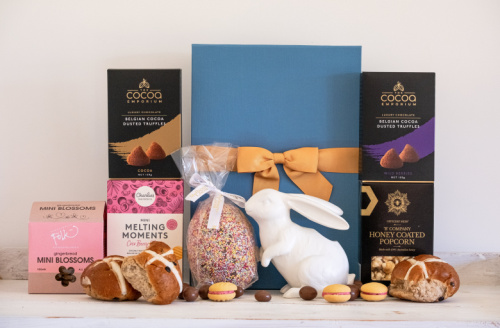 Surprise and delight your loved ones with our delicious Easter range. It's choc full of the most delicious gourmet Easter treats. Choose Easter Eggs and Easter Egg Chocolate Bars from Melbourne Cocoa with an array of flavour combinations including Rocky Road, Honeycomb, Dark Chocolate, Cookies & Cream and more. Or try the cutest little Chocolate Gingerbread Mini Bunny Folk from Australia's Gingerbread Folk. Our premium Easter Hampers are filled with gourmet treats to delight. Choose from choc filled quality Easter Eggs and Easter Chocolate Bars treats with pairings of the finest wines and bubbles.
Slow Lunch
Make it easy for everyone to relax over a slow Easter lunch. Pull out the slow cooker and add a Gordon Rhodes sauce mix for a Sticky Brisket Beef Without Grief or a Slow and Steamy Moroccan Style Tangine. Prefer the roast with all the trappings? Add a Shropshire Spice Co stuffing mix for that next level roast. For a rustic charcuterie board arrange the following items over a wooden cheese board or platter:
Make sure you get a selection of delicious meats like fresh ham, prosciutto, salami, or kabana. Add a variety of cheese including creamy brie, tasty cheddar and even some aromatic creamy blue cheese.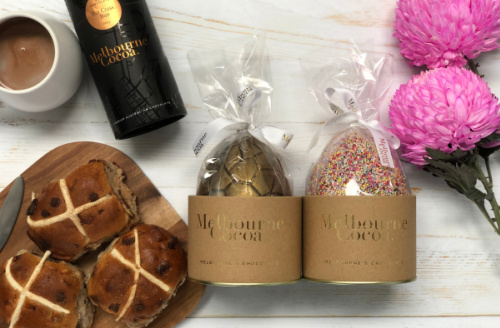 Bring the crunch with crackers. We love the selection of crackers from Valley Produce Company including Valley Seed Crisps, Artisan Flatbreads, Pita Crisps and Crackerthins.
Add delicious accompaniments like the Valley Produce Company Fig & Olive Fruit Pyramid, Kalamata Olives from Kangaroo Island Olives, or sundried tomatoes, marinated mushrooms, or artichokes. Add fresh fruit and vegetables like grapes, cherry tomatoes and asparagus.
Drinks & Dessert
Get the family together for drinks and nibbles and enjoy a relaxed Easter dessert platter over some great conversation. Choose a selection of chocolates, sweets, nuts and fruits and pile them high over a wooden board or platter for a dessert that is guaranteed to wow.  The Melbourne Cocoa Rocky Road Easter Egg Bar, Freckle Easter Egg and the Gingerbread Folk Mini Folk Bunnies are a great nod to Easter on a dessert platter. Pile them high with grapes, strawberries, and blueberries for a leisurely grazing dessert.
Browse our Easter range for more ways to make Easter feel special.