They are full of the good stuff!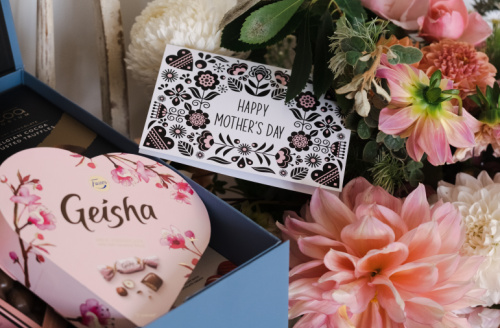 Our range of premium gourmet Mother's Day hampers are just the thing to let her know how much she is loved and appreciated. Featuring the finest selection of Champagne, wines and spirits paired with the most delectable gourmet treats, our hampers are sure to delight and surprise.
Our Champagne, featuring the iconic red sash of Maison Mumm, is fresh and exhilarating, bringing luxury and elegance to our array of hampers. Quality wines from St Hugo and Stoneleigh deliver rich reds and fresh whites, while spirits from Monkey 47 and Everleigh Bottling Co bring delicious colour and a sense of celebration.
Our array of sweet and savoury gourmet treats delivery the finest flavours from Australia & the world. We choose only the finest Australian brands like Ernest Hillier, Melbourne Cocoa, Valley Produce Company, Kangaroo Island Produce Co, Charlie's Fine Foods, The Regimental Condiment Company for our hampers with their quality chocolates, crackers, biscuits, nuts, condiments, olives, fruit pastes, tapenades and more!
Our international brands are carefully curated to bring unique flavours from quality brands to our hampers. Discover the world's finest liquorice from Denmark's Lakrids by Bülow, indulge in the creamiest Cornish Fudge from Copperpot, enjoy the tradition of quality tea, coffee, and hot chocolate from the renowned Whittard of Chelsea and incredible Belgian Truffles from The Cocoa Emporium.
Our hampers are gorgeous (and recyclable!)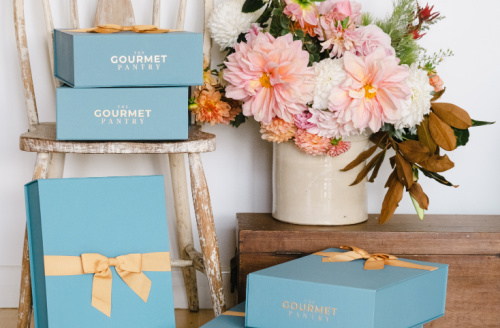 Every premium hamper from The Gourmet Pantry brings with it an incredible opening experience. Each hamper is packed lovingly into our French Blue Hamper Box and topped off with a quality gold ribbon.
Our hampers are carefully curated so they are full of product not filling, so your mum will open the hamper box to see it full to the brim with quality gourmet goodies. Each hamper is protected in transit with protective shipper boxes ensuring your hamper reaches your mum in the same fantastic condition that it left us.
While many of our customers re-use our French Blue Hamper Boxes for storing items around the home, our hamper boxes are also fully recyclable, as are our ambient shippers while our cold shippers just need the foil insulation removed before recycling.
Deliver in time for Mother's Day
Order now so you don't forget Mum on Mother's Day. Select from our huge range of premium gourmet hampers and choose our 'Deliver in time for Mother's Day' option at check-out.
With this option, we'll send the hamper to arrive in the week leading up to Mother's Day with a special sticker saying, 'Surprise Inside – Do not open un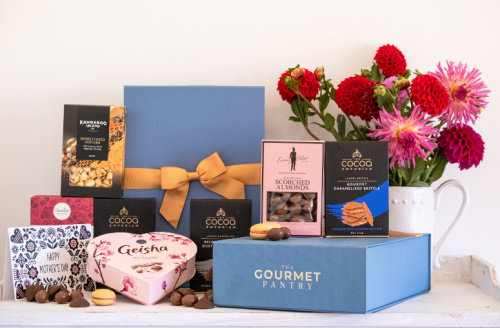 til Sunday 8 May.' You'll have peace of mind knowing you have sent your mum a wonderful gift that will be ready and waiting for her to open on Mother's Day.
Alternatively, you can get the hamper sent straight to you so you can hand it to your mum, grandmother, step-mum, auntie, or the special person in your life that you would like to acknowledge on the day.
Simply choose the hamper you would like to gift, and we'll do the rest, delivering straight to her door with a personalised Mother's Day Card.
Free delivery Australia-wide on all hampers over $80
You will enjoy free delivery Australia-wide on all hampers over $80 or take advantage of our Express Post Delivery offer of just $15 per hamper. So, if you are not able to see your mum on Mother's Day, you are still able to send her your best wishes and love from wherever you are in
Australia. And if you are living or travelling overseas, you can order a hamper to be delivered to
your mum anywhere in Australia.
Personalised message in a FREE Mother's Day Card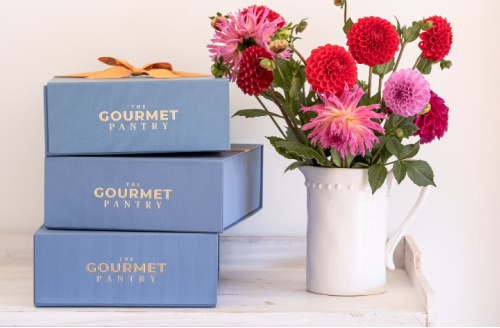 Choose one of our fabulous gourmet hampers and you can send a personalised message to mum on our free Mother's Day greeting card. Our Nordic inspired Mother's Day Greeting Card is a gorgeous addition to each hamper, or you can choose from our range of quality greeting cards including thank-you, congratulations and thinking of you!
Not sure what to choose?
If you are not sure of what hamper your mum would like best, let her choose from our wide selection of gourmet hampers and premium gourmet treats with a Mother's Day Gift Voucher.
All you need to do is choose the amount you would like to spend, and we will send the gift voucher straight to her inbox on Mother's Day with a personalised message from you. You can even choose the time you would like the voucher sent!
Make sure she knows how much you love & appreciate her!
Receiving one of our hampers is an exciting and enjoyable experience and is a thoughtful way of letting your mum, nanna, step-mum, grandma, nonna, wife, or special person know how much you care.
Discover the range of premium gourmet hampers available now at www.thegourmetpantry.com.au.