Our gourmet hampers stock the sweetest selection of gourmet goodies to share with family and friends with a range of exciting chocolates and sweet treats made by both local Australian and International artisan producers. 
In our sweet hamper range, you'll find these gourmet sweet treat brands.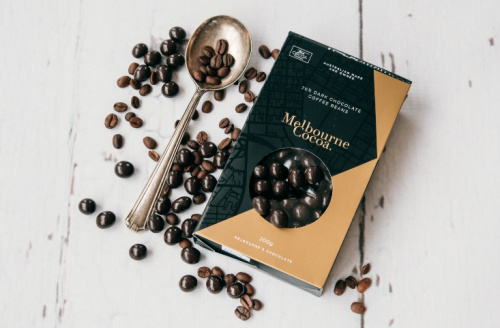 Melbourne Cocoa painstakingly selects ethically produced cocoa and cocoa derivatives from around the world and blend them with Australian milk powders and sugar by hand, in Melbourne's outer east, to create completely unique blends. Melbourne Cocoa sets out to define a flavour profile distinct to their part of the world. That is chocolate that tastes of chocolate - rich in cocoa and cocoa butter with a creamy, not milky, finish. The range is built upon their signature blends of Milk, Dark & White Chocolate. Their packaging design uses the Melbourne CBD street-map as its key feature and all packaging materials are made from recycled or recyclable materials. Check them out in the G.H. Mumm Champagne & Premium Chocolate and the Monkey 47 Dry Gin and World's Finest hampers.
The Cocoa Emporium sources the finest gourmet chocolate treats and gourmet sweets from Australia & the world for their luxury gourmet gifting range. From the creamiest Belgian Truffles in a variety of gourmet flavours, to caramelised brittles and milk chocolate roasted almonds, The Cocoa Emporium Luxury Chocolate range is simply delicious and found in these popular hampers: Gourmet Sweet Treats, Gourmet Snack Box and Gourmet Selection Hamper.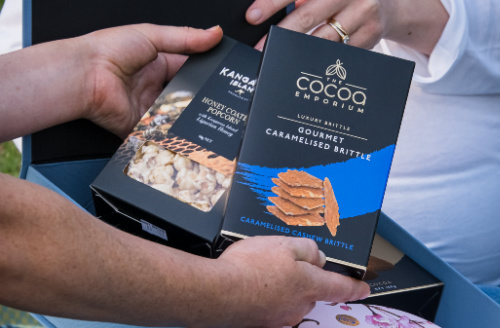 From a very primitive beginning in the 1860s... a small bakery opened in Abbotsford Melbourne. This little bakery aimed to meet the gold rush demand for freshly baked loaves of bread. As time went on, this little bakery grew into a bigger bakery which then became McAlpin's Flour. McAlpin's Flour was sold, and the family went on to buy a cake shop. From there the family went into biscuits and built a factory which they soon outgrew. From this biscuit factory the Mac's Shortbread Company was born as we know it today. Six generations of traditional bakers down the line, they have greatly enhanced their business model, capacity, and efficiency. Today...with the company still owned by the McAlpin Family, they truly are an Australian success story. With a new 'state of the art' manufacturing facility and an amazing team, they take great pride in all products and strive to ensure all products are consistent and of the highest quality. Mac's Shortbread is proudly Australian made and owned and you'll find them in these stunning hampers: Red Wine & Premium Gourmet Selection, Sweet Luxuries Gourmet Hamper and White Wine & Premium Gourmet Selection.
The Regimental Condiment Company is an Australian food company producing a range of gourmet food products emanating from the glory days of the Officers' Mess. Their 'B' Company Honey Coated Popcorn is a delicious honey coated popcorn made with 100% Australian Honey and a great addition to these sweet hampers: Stoneleigh Wild Valley Pinot Noir & Gourmet Selection, G.H.Mumm Champagne & The Cocoa Emporium Selection and Mumm Sparkling & Nibbles.
Paired with these delicious, sweet brands we have added to our hampers the best gourmet food and alcohol products from Australia and the world and have packed them lovingly into our stunning hamper boxes. Each hamper is carefully constructed to make sure all products complement each other, and the range offered is sure to provide the perfect gift and add a little luxury to every occasion. All you need to do is choose which of our sweet hampers you would like to gift, and we'll take care of the rest – delivering to their door Australia-wide with a personalised message.