It's the favourite go-to cuisine for so many Australians which is why this month we are celebrating everything Italian - from pasta and pizza to incredible sauces, condiments, truffles and oils – there is so much to savour and enjoy.
Here's ten of our favourite products from Italy's finest brands that bring the quality and flavour of Italy to your own home.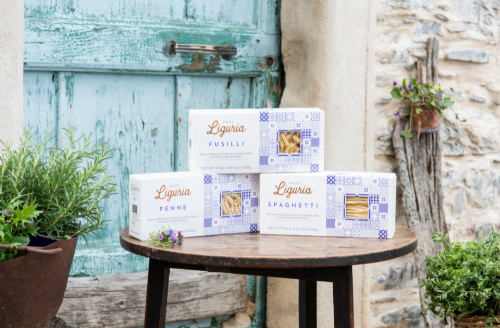 Pasta di Liguria is an authentic Italian, regional artisan pasta made by the Minaglia family from their hometown in the Ligurian Apennine mountains. Made using artisan techniques and with no added colorings or flavorings- just 100% certified Italian, organic, natural ingredients, and pure spring water. The penne is not only delicious but the packaging is so gorgeous it makes a stylish addition to your pantry!
Borgo De Medici - Amaretti Cookie in Tube
From beautiful Tuscany, these Amaretti (Crisp Cookies) are typical italian cookies that were born in the northern part of Italy during the Middle ages. These small, dome-shaped cookies are crisp and crunchy on the outside and soft on the inside.
Borgo de Medici Truffle Pizza Kit
This truffle pizza kit takes your home-made pizza making to a whole new level. With all the ingredients to make this delicious pizza from scratch. Use the Italian pizza flour to make the dough and smother it with the Black Truffle Tomato Sauce and add some dollops of Black Truffle Sauce. Once cooked to perfection, finish it off with a drizzle of truffle flavoured oil. There's even a pizza cutter tool to get the perfect slice!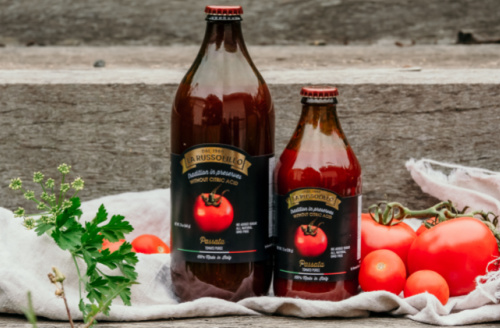 La Russolillo Italian Tomato Passata
Low in calories but with a very intense aromatic flavour. The datterino is distinguished by its high sugar content which makes it particularly tasty. It is rich in mineral salts, vitamins A and C with a regenerating action on all the cells of the body. Handpicked, processed according to the ancient tradition. Pasteurized with the delicate cooking in a bain-marie so as not to alter the flavour.
Tiberino Trofiette with Basil Pesto
This trofiette pasta with basil pesto is a wonderful meal, it even has pine nuts! This amazing Italian pasta dish can be easily cooked in minutes and doesn't require any additional ingredients. All ingredients used are 100% natural! Cooks in just one pan with no straining of water required either! It's vegan, dairy free and are also great for camping!
Borgo De Medici - Lemon Flavoured Tagliatelle Pasta in Box
Lemon flavored Tagliatelle has a delicate flavor, bringing to mind the sun and warmth of Tuscany. It's an artisanal pasta, made respecting tradition. The tagliatelle is prepared with top quality eggs and flour and have an uneven surface that enhances the flavours. The pasta also has a lemon flavour, which makes it fresh and unique.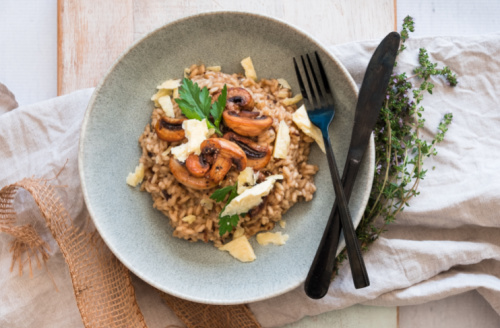 Tiberino Risotto with Porcini Mushrooms
Tiberino's one-pot risotto with porcini mushrooms is perfect when you are looking for a tasty and healthy Italian meal. This risotto is 100% natural, doesn't contain any chemical ingredients or have any added sugar or fat. It cooks in just one pan with no straining of water required. It's a fantastic option when you want to eat well but don't have a lot of time to prepare a meal! It's also suitable for vegans.
Borgo de Medici Pesto Focaccia Kit
Make authentic pesto focaccia bread at home with this all-inclusive kit from Borgo de Medici. With everything you need to make this delicious focaccia from scratch including Italian wheat flour, green pesto, basil-flavoured dipping oil and a pizza cutter. This focaccia is crispy on the outside and so soft on the inside. Eat it on it's own warm from the oven, or serve with soup or pasta or in a sandwich.
Vergani Panettone Traditional Chocolate
This Italian Panettone is baked in Milan by Pasticceria Vergani, and comes in the perfect small size to enjoy with a cup of Italian espresso. A traditional, naturally leavened Milanese panettone (without sultanas and candied orange peel) meets chocolate chips. Artisanally baked using an old-time recipe, this panettone boasts high quality ingredients and the rich flavour of chocolate.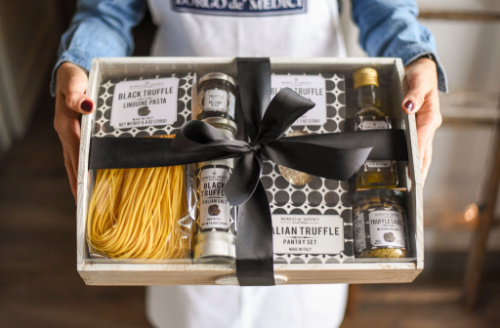 Borgo de Medici Tuscany Luxury Truffle Tray
Made in Italy, this is a Truffle Lovers dream gift. This Luxury Truffle Gift Tray includes Truffle Pasta, Truffle Risotto, Italian Truffle Salt, Black Truffle Dipping Oil, Truffle Balsamic Glaze and Black Truffle Sauce in a reusable wooden tray. The selection includes truffle-infused speciality products handcrafted in the Tuscany with locally sourced fresh ingredients.
If you want to enjoy a taste of Italy in your own home, you can order all of these products online now at www.thegourmetpantry.com.au or you can explore more of our huge gourmet Italian selection and featured brands to find your own favourite selection!
Buon Appetito!